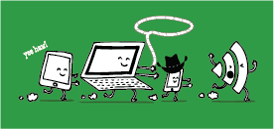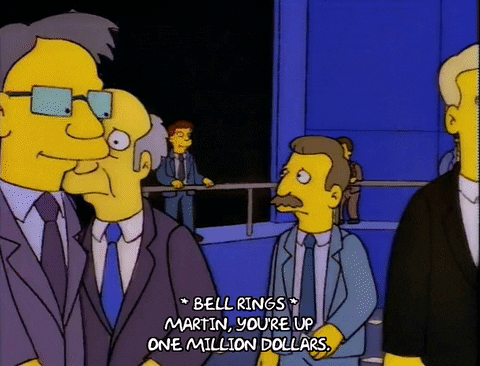 So. Much. To. Unpack. Unlike most pundits this week, we're not going to talk about GameStonks, at least not in the kind of depth we normally would. No, for the moment we'll save the commentary for the forum chatter and DIY investor feedback from Twitter.
There's plenty on the menu for this edition of the Roundup. In fact, there's so much to say about the latest online brokerage rankings from Rob Carrick at The Globe and Mail that we've decided to focus this edition on the wealth of data and insights the latest edition has delivered. To keep things on point with the conversations happening online, we've also included highlights from the forums and on Twitter. Get comfy – this is going to be a long (but fun) ride.
The Unsettled Elephant in the Room
We can safely say this up front: This current market is unlike anything we've ever seen before.
Specifically, the mobilization of massive waves of investors pouring into stocks that are heavily shorted and being able to generate shockwaves through the capital markets. Never before, or at least not in recent memory, have so many people learned so much about shorting, squeezing, margin, clearing, and settlement as they have in this past week.
Moreover, the lesson in what matters most to online investors – content and community – came courtesy of Reddit, a website that eschews modern aesthetics.
An almost incalculable number of lessons are to be learned from the time we're living through (especially as DIY investors), so we won't be covering these in this edition of the Roundup because there's simply not enough time and space this week for all of it. In fact, in compiling the reactions online to the Canadian discount brokerages via Twitter, the software we use crumbled under the sheer volume of the conversation, taking with it hours of work sifting through visceral and convulsive reactions by online investors (traders) to the trading of GameStop, AMC, Blackberry, and others.
For now, it's sufficient to leave this video as a tongue-in-cheek summation of events.
a normal person explains what's happening on the stock market: pic.twitter.com/zKKvULCirX

— Avalon Penrose (@avalonpenrose) January 27, 2021
Rest assured, as the dust settles (probably faster than trades from Robinhood – had to do it), the spotlight will move to the seismic shift in trading behaviour we're witnessing right now.
ICYMI: Robinhood CEO Vlad Tenev spoke out yesterday after the company decided to restrict trading in GameStop and other stocks. "In order to protect the firm and protect our customers we had to limit buying in these stocks," he told @andrewrsorkin. https://t.co/LsJ5iNjJAB pic.twitter.com/XutnOQn9YN

— CNBC (@CNBC) January 29, 2021
2021 Canadian Online Brokerage Rankings: Spotlight on Service
Now in its 22nd edition, The Globe and Mail online brokerage rankings, authored by Rob Carrick, are one of the most popular rankings available for Canadians who are shopping around for a new online brokerage or are simply interested in making sense of trends in the DIY investing space.
This past week, the latest edition of the rankings was published, and this one is by far one of the most interesting editions yet.
Fair warning, this post is going to be a long one, in part given the historic nature of current market conditions but also because of additional data added to this year's review that doesn't ordinarily appear in it.
What Goes Into the Online Brokerage Rankings?
Over the past two decades, there have been numerous changes to the review, ranging from what time of year it gets published, to the criteria used to evaluate brokerages, to the accessibility of the reviews themselves. These small changes make comparing absolute performance from year to year a challenge, so as a result, one of the best ways to understand the meaning of these reviews is on a relative basis. Contextually, there are important changes or factors that arise over time that make up part of how online brokerages get evaluated.
An important factor to note in the assembly of the rankings is that this review is based on data from the prior year. Or at least that's how things used to operate. While the bulk of the 2021 online brokerage rankings are based on data from 2020, there is a significant addition to this year's results: telephone customer service wait times that were collected in mid- to late-January of 2021. The data, which was supplied by financial research firm DALBAR Canada, tested the telephone wait times at all Canadian online brokerages.
It bears mentioning that the likely reason behind including telephone customer service experience stems from the many (many) complaints from online investors over the past year and especially in the latter portion of 2020 (and early 2021) concerning reaching an online brokerage by phone. If there is one thing that Rob Carrick's reviews and commentary on the online brokerage space in Canada have evolved into, it's a barometer for some of the most salient issues (and frustrations) faced by DIY investors.
With some important context out of the way, let's dive into the results themselves to see what the scores looked like across the board this year, who was included (and who was not), as well as some of the important drivers of success in this year's rankings.
Results from the 2021 Canadian Online Brokerage Rankings
To help put this year's results into context, the table below compares the most recent set of scores to those of the past two years (2020 and 2019).
One of the first things that jumps out is in relation to first place in these rankings and which online brokerage scored the best: Qtrade Investor.
For the past three years, Qtrade Investor has achieved the highest score in this ranking and, in 2019, had to share that accolade with Virtual Brokers and TD Direct Investing. Since 2019, however, Qtrade Investor has handily outscored its rivals – including last year, when it scored an A+ rating. This year, Qtrade did earn the highest mark, an A, but it was a lower score than last year. No stranger to the podium, Qtrade Investor has been voted best online brokerage by The Globe and Mail 12 times in the 22-year history of the rankings.
Coming in second this year was TD Direct Investing, which is one of Canada's largest and most popular online brokerages. As with Qtrade Investor, TD Direct Investing saw their score in 2021 drop from 2020, in this case falling to an A- from an A.
Third place, interestingly, was a tie between Interactive Brokers and Questrade, both of whom received grades of B+. One of the reasons this is an interesting result is because Interactive Brokers was, for many years, not included in The Globe and Mail rankings since they primarily catered to more active investors and traders (as opposed to the "everyday investor") and they lacked an RRSP offering, which they now currently do offer. Since 2019, Interactive Brokers' score has remained fairly level at B+, but Questrade has seen their score slip slightly, from an A- in 2019 to B+ in both 2020 and 2021. This year, however, that B+ was good enough to tie for third place.
While the middle-of-the-pack experience has largely remained intact, HSBC InvestDirect has consistently remained at the bottom of the rankings for the past three years. Despite their low commission rates, international access, and award-winning client service, several factors that matter more to these ratings, such as mobile accessibility, impacted the scores.
Also of note this year, only two of the 12 Canadian online brokerages covered this year improved in their scores relative to last year. BMO InvestorLine raised their score from a B- to a B, and CIBC Investor's Edge improved from a C to a C+. In contrast, five online brokerages dropped in scoring compared to last year, the most notable among them being Scotia iTrade, which went from an A- to a B. Another interesting negative trend showed up for Virtual Brokers. In 2019 they tied for the highest score, an A that year, with Qtrade Investor and TD Direct Investing. In 2020, however, they slipped to a B+, and in 2021 they scored a B.
Not on the list of Canadian online brokerages reviewed for this ranking was Wealthsimple Trade – a notable absence given both the visibility and the popularity with younger investors. This is not the first review that the newest kid on the online brokerage block has had to sit out. However, in the context of Wealthsimple Trade's features, pricing, and volume of interest, not to mention sheer growth in numbers, DIY investors are likely curious about how the brokerage would fare in the rankings framework.
As far as grades go, a comparison to 2019 shows that performance across the board has, on a relative basis, worsened. The strongest drivers for scoring on The Globe and Mail brokerage rankings have always leaned toward the experiences of "everyday investors" rather than more-active traders. This year, the ranking criteria are based on:
Convenience and security
Cost
The investing experience
Tools
Importantly, a big part of the convenience and security component of this year's results included phone access, something that has been a major pain point throughout 2020 but especially into the end of the year.
Call Options
To address this timely topic, in addition to relying on data generated from 2020, this year the online brokerage rankings included telephone wait time data supplied by financial services research firm DALBAR Canada – and those results were also fascinating.
One of the first, and most glaring, results from that snapshot is that wait times in January at online brokerages averaged out at 92 minutes, with a standard deviation of almost 52 minutes. The importance of reporting the standard deviation here is clear because, while an average wait time of 92 minutes is bad enough, it doesn't accurately convey how bad things are right now for DIY investors trying to contact customer service.
For a more accurate view, there's going to be a little bit more math required.
What the overall average of wait times doesn't convey is that the data has a couple of very clear outliers at both the short and the long ends of wait times. To help put this into perspective, the shortest wait time average was 7 minutes (Virtual Brokers), and the longest was 179 minutes (Scotia iTrade). That works out to almost 26x more time spent waiting to speak to someone at Scotia iTrade than at Virtual Brokers.
These two extreme data points suggest they were outliers, and outliers tend to add noise or skew the more realistic picture. The next outlier in the data was Qtrade Investor, with an average wait time of 28 minutes – which is still long by most reasonable standards but is significantly lower than the next highest online broker, TD Direct Investing, where telephone wait times were 58 minutes on average.
Excluding the wait times of Virtual Brokers and Qtrade Investor as outliers, the average wait times at 83% of the Canadian online brokerages worked out to be 107 minutes, more than double what it would be if Virtual Brokers and Qtrade Investor were included in the analysis. Even more telling, the standard deviation drops to 42 minutes. At the upper end of the wait time range, if we exclude Scotia iTrade, with a wait time of 179 minutes, and Desjardins Online Brokerage, with a wait time of 170 minutes, a much more accurate view of wait times emerges.
The average wait time drops from 107 minutes to 91 minutes (about a 15% decrease), and the standard deviation drops from 42 minutes to 26 minutes (a 38% decrease). This represents 66% of the data, or eight out of 12 online brokerages.
Wait Times
Average (mins)
Standard Deviation
(mins)
% of Brokers Represented
All Brokerages
92
52
100
Shortest Outliers Excluded
107
42
83
All Outliers Excluded
91
26
66
3 of Big 5 Banks (outliers excluded)
93
7
25
In light of the above data (that excludes outliers at the upper and lower extremes), and assuming a normal distribution, 68% of the time, calling an online brokerage in Canada in January would have resulted in a wait time of between 65 and 117 minutes. And 95% of the time, or 19 times out of 20, the wait time for a DIY investor would have been between 39 and 143 minutes. And 99.7% of the time, a Canadian DIY investor would have waited between 13 and 169 minutes. In other words, getting served quickly would be more because of good fortune than because of the system working as it should.
Let that sink in for a moment. These are private, profit-driven, million- or billion-dollar brands (in some cases) that are posting these kinds of numbers. For illustration, three out of the big five Canadian bank-owned online brokerages posted a remarkably consistent range of wait times: 93 minutes with a standard deviation of 7 minutes. On a peer-to-peer basis, this highlights how far ahead TD Direct Investing's scores (with wait times of 58 minutes) would be relative to the others and how far behind Scotia iTrade sits. In either of these two cases, these would be considered so far outside of a statistical norm that it is not by accident that they're achieving these numbers.
Imagine the frustration, dropped calls, and erosion in trust that occurs when an on-demand world meets a two- or three-hour wait time. And this doesn't even factor in waiting by online chat.
It naturally raises the question: What are Virtual Brokers and Qtrade Investor doing so well, which causes them to be able to answer the phone so fast (relatively speaking), and what are Scotia iTrade and Desjardins Online Brokerage doing so poorly? One possible conclusion points to a capability of being ready to scale up, as pointed out in the Influencer Edition of the Look Back / Look Ahead series.
Now, to be clear, these numbers do not indicate whether or not issues were resolved, just how long it took for someone to answer the phone. Also, these are snapshots in time, and there is no comparable data taken from similar time periods to benchmark against. The fact that these tests added to the caller queue means they affected wait times, even if the impact was slight, so the numbers do need to be treated with some caution.
Even so, it is cause for concern for DIY investors to see that wait times can be meaningfully measured in hours instead of minutes. Coming into the peak season for RRSP contributions, it means that volume will only increase, as will frustration levels. If there are any outages, huge rallies or crashes in the market, or other market-moving events, then RRSP contributions via telephone are going to be nearly impossible at most Canadian online brokerages.
Of course, telephone service isn't a major selling point for a lot of online investors. In fact, many will never have to deal with a client service rep on the phone, but there are some things that can happen only by talking to a representative. For a portion of the DIY investor population, that translates into being forced to wait.
That said, there are indications that this is clearly an issue of concern to certain online brokerages and that relief may be on the way.
Relief for Long Wait Times
First, in an interesting interview by Preet Banerjee with BMO InvestorLine's president, Silvio Stroescu, there were some fascinating insights on the impact of the past year on this online brokerage. According to Stroescu, the huge influx of demand for online investing accounts, as well as from investors looking to "upgrade" their accounts, took customer service wait times from an average of five minutes in early 2020 to about 40 minutes in 2021.
The numbers reported by Stroescu for 2021 are still much higher than he was happy with, and in the interview he did explain a number of steps that BMO InvestorLine is undertaking to close the service gap. In fact, as early as this past summer, Stroescu mentioned that BMO InvestorLine undertook significant hiring and ramp-up to provide additional service support. Nevertheless, the observed results of DALBAR's numbers and reported numbers of Stroescu all point to a significant wait time for online investors calling in.
Another interesting piece of news came from Questrade, in advance of the RSP season rush, in the form of a client email. In that email, they acknowledged that "longer wait times are the norm with all brokerages at this time," that over the past year they have doubled the number of client service specialists, and that in the "coming weeks" they are slated to add over 100 customer service agents.
Putting the Pieces Together
Clearly, there's much to digest from the data in this year's edition of the Canadian online brokerage rankings by The Globe and Mail's Rob Carrick.
So much of the story that started in March of 2020 was about the volume of activity as well as the influx of individuals who wanted to trade on the market. The impact on Canadian online brokerages, in terms of service as well as stability, has been clear. The statistics point to a systemic lack of capacity to be able to address the surge in interest in online investing coupled with technology and operational shortfalls.
What, as a DIY investor, is especially worrisome about the online brokerage experience is that it has taken so long to remedy the capacity issues. Markets rely on confidence, and confidence comes from certainty. The relative stability of scores in the Canadian online brokerage space points to a "business as usual" pace that was moving far too slowly, or did not plan adequately, for the kind of strain that ultimately emerged over the past year. That said, at certain online brokerages, the persistent wait times point to a much deeper issue and lack of prioritization of client service. Conversely, some other brokerages have clearly shown the capacity to keep up somewhat reasonable wait times.
The qualitative commentary this year was in line with previous years; however, one of the great features for investors trying to get a quick answer on comparing features is toggling comparisons for key items like commission-free ETFs, high-interest savings ETFs, and performance reporting.
As much as we have said about this year's rankings, there's also a lot that we haven't yet covered, including the reactions of investors to this data. This year's rankings generated almost immediate reactions by readers, with the dominant theme being wait times at various brokerages.
With the latest rankings data in hand, it won't just be hedge funds feeling the squeeze this year. The online brokerages in Canada now have added pressure to solve the customer service wait time issue and win back the trust of investors. Failing to do so quickly would almost certainly, at this point, raise the prospect of additional regulation and compliance to mandate accessibility and accountability.
Discount Brokerage Tweets of the Week
Discount Brokerage Tweets – Curated tweets by SparxTrading
From the Forums
Up & Up & Up
After so many years of the markets doing well and interest rates dropping, one investor wonders in this post if a market downturn is now unlikely, if not impossible. Other Redditors share their strong opinions on whether the stock market can stay up forever.
Into the Close
That's a wrap on just one of the several big events that transpired this past week. Looking forward, there's a new month, which means a deals update is on its way, and there will likely be no letup from the buying army of retail investors who've firmly locked into all sorts of shorted stocks, including silver. Buckle up for volatile times ahead.