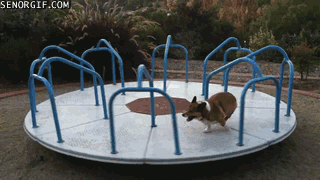 For anyone keeping score at home – July is almost over. The strange pace of time that COVID-19 has imparted on the world is equaled only by the strange behaviour in stock markets that, because of COVID-19, have seen major indices fall off a cliff then sharply rise close to the edge they fell from. For online brokerages, waves have taken on a different meaning this summer, and in looking down the track to the end of 2020 (thank goodness), preparation should be on the list of important summer activities.
In this edition of the Roundup, we look at one story with several important facets. The latest earnings from US online brokerages are in, but the real story appears to be not where we've been but rather where things go from here for online investors. Also on the docket, interesting chatter from DIY investors on Twitter and from the forums.
Breaking Fad: Is the Retail Investor Frenzy About to Expire?
The story on the meteoric rise in trading by "retail investors" over the course of the COVID-19 pandemic continues to gather steam. Ironically, while we've been covering this news since March of this year, the fact that it is now hitting the "major" news outlets could be a signal that the retail frenzy is about to lose considerable steam.
This past week, there were several major US online brokerages that reported their quarterly earnings. TD Ameritrade, E*Trade, and Interactive Brokers all showcased record-breaking performances in terms of trading activity as well as in terms of account openings and earnings. In contrast, although the largest online brokerage in the US, Charles Schwab, experienced similarly large volumes of activity, revenues and earnings missed estimates. All told, however, it was another eye-popping quarter filled with people coming in droves to trade stocks.
Not to dismiss the earnings and performance metrics, but much of this data is looking in the rear-view mirror at what's already happened. At a time when so much news is happening so quickly, it's important to stay on top of what's actually taking place.
Beyond the numbers, however, the bigger stories emerging from the narrative around online investing appear to be in how different, and influential, stakeholders are covering the online brokerage space, and what that means for the near-term future for the industry in the US as well as in Canada.
The first interesting angle on the coverage of the retail-trading frenzy came from one of the most influential voices for investing and trading in North America, CNBC. And what stood out was as much what was said as what wasn't.
Last week, online brokerage Robinhood was casually referenced as one of "the major online brokers" in an article by CNBC, and Interactive Brokers was not. Though this might have been just an omission (Interactive Brokers and Robinhood were mentioned as major online brokers in another article by the same author), the fact that Robinhood is now being counted among the "major" publicly traded online brokerages (even though it is not yet publicly traded) arguably reflects a step change in who they are as a firm and in the influence their clients have on market direction.
Whatever the calculus was, Robinhood's vaulting to the status of "peer" of the much larger incumbents means that growth is happening much faster than anyone had planned for. Perhaps this is behind the decision to delay Robinhood expanding to the UK (for now).
Two important facts stand out as important context: First, despite the best account-opening numbers from any of the publicly traded online brokerages in the first six months of 2020, Robinhood handily beat them by adding over 3 million accounts. Second, Robinhood did this despite peer firms taking commissions to zero, meaning that consumer preference likely played a decisive factor in online investors picking Robinhood over Schwab or Ameritrade or E*Trade.
For US online brokerages, it should be abundantly clear that the rise of Robinhood signals that they cannot afford to discount "millennial" (or future) investors anymore and that platform adoption is going to be heavily influenced by user experience – in particular on mobile. While this shouldn't be news to anyone in the online brokerage industry by now, the fact that so many online brokerages have seen their market share erode or be captured by Robinhood, especially in the millennial segment, means that other online brokerages are going to be playing catch-up.
Overlaying what's unfolding in the US online brokerage market with the situation in the Canadian online brokerage space, it's interesting to see which Canadian discount brokerages are putting a priority on design and user experience ahead of other long-standing "standard" features. Arguably, it's a short list.
Both Wealthsimple Trade and Questrade have managed, from a feature and accessibility standpoint, to successfully reach and appeal to younger investors, and the former is clearly taking many of its cues from Robinhood. Like Robinhood in the US (but without the same degree of scale of impact), Wealthsimple (and especially Wealthsimple Trade) is being talked about in the media as it relates to investing online. Other Canadian online brokerages: crickets.
Perhaps the question that incumbent online brokerages on either side of the 49th Parallel need to wrestle with is given Robinhood's gains with the millennial segment, how hard will it be for them to appeal to the older or more mature investor segment? Can existing online brokerages move down market faster than Robinhood can move up? Does the same hold true for Wealthsimple Trade, even though they still have lots to develop to compare fully with online brokers in Canada? Sounds a bit like an innovator's dilemma if ever there was one.
The second interesting angle relating to the coverage and response to the retail-investor market comes from assembling the fragments of highly seasoned and influential voices in the online investing market. In particular, it was the notes of concern expressed by the head of the NYSE, the founder of Interactive Brokers, as well as a slide from the deck of Schwab's business update showing sentiment among investors that paint a curiously grim picture just as the S&P 500 is within spitting distance of its all-time high.
Consider the following:
In a recent interview with CNBC, the president of the NYSE, Stacey Cunningham, stated: "I am excited to see the retail investor engaging in the market, but I'm also concerned if they're not doing it with information and also not understanding the risks associated with it, because you certainly don't want to see retail investors get hurt because they didn't understand that markets can go in both directions and they can go pretty quickly."
In an interview with CNBC regarding earnings, Thomas Peterffy, founder of Interactive Brokers, labelled the action in the current market environment as "crazy" and characterized trading levels as unsustainable over the near term.
According to the latest business update from Schwab, investor sentiment continues to track lower despite markets' substantially rebounding from their lows.
Finally, there's the growing chorus of experienced market observers, analysts, and influencers who are also increasingly skeptical of markets' powering higher and the sustainability of that move.
Aside from the latter (typically pundit) view, there is a cause for concern when individuals representing businesses that would directly benefit from more trading state they're concerned about the levels of trading taking place.
While the pace of retail-investor activity is almost certainly going to decline, when and how rapidly is simply a waiting game. It will be interesting to see whether or not the decline will once again entice investors back into the market the way the first drop did in March or, as the concerned voices seem to suggest, whether retail investors will get badly burned by a contraction. Regardless, any kind of volatile downward move is likely to generate significant trading activity and put pressure on technical as well as service systems across the online trading ecosystem.
There is already discussion of preparing for a second wave of COVID-19 outbreaks here in Canada, and with the current situation in many states of the US unpredictable (or just dire), the risks for continued pandemic-related economic (and health) impacts seem likely. What this directly means for online brokerages in Canada is that their trading systems and customer service delays should be prioritized to be fixed, because there are a lot of nervous investors holding into these rallies.
Indeed, DIY investors must also be prepared for market volatility. The track record for most online brokerages in Canada during March was that there were untimely delays or outages during massive volatility days. Time has passed but investors (as shown in Twitter comments) tend to remember moments when their online brokerage platform or customer service experience let them down.
As much as commission cost and user experience are clearly going to be driving the bus when it comes to DIY investor interest, uptime (aka reliability) and wait time are going to keep clients on the bus, even (and perhaps especially) when the road gets bumpy. If things go awry for online investors in the US, at least they can cite not having to pay commissions, but here in Canada, the expectations for performance and reliability are directly tied to the price. And, in a world where commission price exists (in spite of zero-commission alternatives), there is little room (or patience) for things going wrong.
Discount Brokerage Tweets of the Week
Discount Brokerage Tweets – Curated tweets by SparxTrading
From the Forums
The Grass Is Always Greener
A Redditor asks if there's a benefit to investing in Canadian versus American ETFs in this post. Commenters break down factors such as commissions, exchange rates, and long-term market patterns to tackle this big question.
A Rare Stake
In this post, a potential investor asks for advice on whether or not they should buy shares in the company they've been at for the past two years. Fellow forum users give their perspectives and offer insights into the company's possible motives.
Into the Close
That's a wrap on what has been an insightful few weeks in the online brokerage space. While the US market has dominated the headlines, there's still activity taking place among Canadian brokerages, which will start filtering back into the mix. In the meantime, with gold and bitcoin creeping past key psychological hurdles, and more stimulus money in the works (in the US), it looks like the music is still going for just a bit longer.