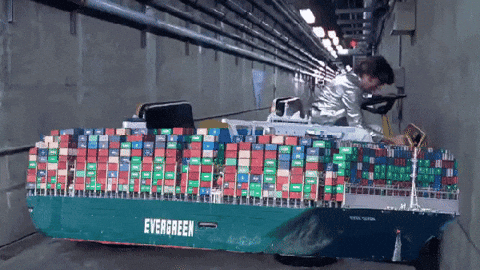 Now that the Ever Given has been officially refloated, we can all go back to making memes about other things. Bad puns aside, there has been a boatload of activity this past month, and it points to 2021 being a transformative year for Canadian DIY investors.
In this week's Roundup, we look at an important development in the online brokerage space as a new entrant prepares to toss its hat into the commission-free trading ring later this year. Also, with all of the excitement taking place in online trading this past year, we quickly dip into an important theme raised during Fraud Prevention Month and highlight who we saw participate and who we didn't. As always, we'll close out with commentary from DIY investors on the forums and from Twitter..
Mogo Sets Its Sights on Zero-Commission Trading
The Suez Canal wasn't the only place getting crowded this past week. It seems the Canadian online brokerage landscape is on the cusp of trying to fit even more online brokers into a very tight market.
Canadian fintech firm Mogo announced they are acquiring Moka in an all-stock transaction valued at about $64 million. Moka is a Canadian analogue to Acorns, a service in the US that enables users to automatically "round up" amounts on purchases to the nearest dollar and then invest those funds into portfolios comprised of ETFs.
As part of the transaction, Mogo stands to gain the 500,000 or so users of Moka, which will grow Mogo's client base to 1.7 million individuals.
It is an interesting move, to say the least, to venture into the online investing space in Canada, especially when starting from the ground floor.
The Canadian online brokerage market is crowded in terms of existing players, with 14 already, and there are clearly challenges to be overcome with regards to generating revenue per transaction using commissions.
By coming to the Canadian market by advertising zero-commission trading, Mogo is going to naturally attract attention from price-sensitive shoppers. However, unlike other online trading choices, Mogo also carries with it the controversy that comes from its short-term loan, aka payday loan, business.
According to the website, the MogoMini Line of Credit product, for example, charges an annual interest rate of 47.42%.
Compare the marketing pitch for their short-term loans against their effective interest rate of over 47%. When the online stock trading capability of Mogo/Moka comes to market, reading the fine print will be a must for potential clients.
Personal finance communities online are reacting with skepticism over the potential hidden costs or fees that may accompany the new online trading provider.
So, how will Mogo gain traction with the online investing crowd in Canada in the current landscape and with the reputational baggage it carries?
One big clue is that they appear to be aggressively leaning into connecting with Gen Z investors by focusing on themes and products, such as Bitcoin, that are clearly coveted by this group and by emulating phrases and calls to action that other zero-commission providers have used in order to sound and look the part of an online broker.
Mogo's aggressive embrace of Bitcoin, for example, makes no secret of their product or ramp-up strategy in this area. In an open letter about Bitcoin, Mogo stated that "all Canadians should consider having Bitcoin" because of its potential for generating wealth. In that same letter, they essentially make a FOMO argument that not jumping on the Bitcoin rocket means missing out on potential massive gains.
Another clue to their positioning in relation to wealth-building is that they support (or believe they are helping to champion) "democratizing finance." If this sounds familiar, it's because it is the famous catchphrase used by US online broker Robinhood, also known for charging zero commission fees.
The tie-up between Moka and Mogo is an interesting one, especially in light of the seemingly conflicting brand promises and services offered by each. Whereas Moka was about eliminating debt and creating regular savings in measured growth ETFs, Mogo is known for just about the opposite. How these two brands ultimately come together is going to take some time and public relations/marketing finesse to achieve.
Then, there are the UX and features issues that accompany competing in the online investing space that will provide a steep challenge to any new entrant.
Any regular reader of the Weekly Roundup will know that Twitter is filled with all kinds of reactions to the expectations and service requirements not being met by online brokerages. How Mogo/Moka intends to address these kinds of shortcomings is anybody's guess, but zero-dollar commissions won't be enough to win positive praise or ratings, especially if the typical pain points of online trading platforms aren't addressed.
Depending on what segment of the online brokerage market Mogo is most interested in pursuing (we can infer that segment skews younger, based on the marketing and positioning of their service offerings), there might be a foothold that Mogo could establish in the online brokerage market in Canada. That said, it won't be easy, as many competing online brokers will be ratcheting up their efforts to improve different elements of their own service offerings. Also, there is still chatter around more online trading platforms launching in Canada in 2021, notably Tastyworks.
While the news of a new option for DIY investors to trade the stock market, especially at zero commissions, should be cause for celebration, history has shown that even if these kinds of products can make it to market, there are usually feature restrictions or really long periods of time required before which this kind of offering starts to make an impact on the established online brokerages.
When Wealthsimple Trade launched in 2018, for example, it wasn't clear then exactly how long it would take for it to really challenge the existing online brokerage market into lowering commissions or improving service or user experience.
While incumbent online brokerages were certainly aware of the new entrant and the interest it was garnering, the reality was nobody in the online brokerage industry appeared pressured to act to aggressively compete against Wealthsimple Trade on commission price. Instead, the lack of features such as a desktop trading platform made it difficult for Wealthsimple Trade to establish itself as a competitive threat to online brokerages.
For DIY investors, they appeared to have a love/hate relationship with Wealthsimple Trade.
On the one hand, the modern user interface and price point for commissions were something that invoked joy in users. However, it was clear that technology and feature constraints continued to chip away at users fully committing to the platform for their investing needs.
Building a successful new online brokerage in Canada is no easy feat. There are many elements to get right, and the competition will likely not stand still long enough to allow a new entrant to simply come in and disrupt any significant business. The move by Mogo to acquire Moka and provide zero-commission trading by the end of the year might be possible, but price-conscious and reputation-savvy consumers will also see the online stock trading offering from Mogo in the context of the larger set of businesses.
For every zero-dollar commission provider, there is one central issue to address: Everyone will want to know how Mogo will be able to afford to offer commission-free trading. As we've come to learn, free trades don't mean that there aren't costs.
Quick Recap: Fraud Prevention Month
March has been Fraud Prevention Month across Canada. As more of our lives have shifted online, so too have the opportunities for fraudulent activity to negatively impact us. For DIY investors in Canada, Fraud Prevention Month is an opportunity to either get to know or get reacquainted with the securities regulators in our respective jurisdictions. Earlier this month, each of these regulators participated in a joint news release that explained what activities they were undertaking for the month.
Among the interesting themes was a focus on younger investors, such as millennials and Gen Z. The BC Securities Commission, for example, had a FOMO-focused initiative that provided a series of videos to educate investors about warning signs of fraud.
In Alberta, the Alberta Securities Exchange had a unique approach to engaging visitors about investment fraud. They created and launched checkfirst.ca/takesometime, a chatbot-style site that generates rather colourful excuses to provide to people pressuring them to invest. The hope is to "buy some time" that will enable someone to do more research.
Curiously silent throughout the month were most of Canada's online brokerages – at least on social media. Given the opportunity to create content and educate potential and existing clients about an important reality of trading online, this seems like a missed opportunity to talk about features that help keep online investors safe and to explain the requirements that ensure companies comply with an anti-fraud guarantee. Maybe next year?
Discount Brokerage Tweets of the Week
Discount Brokerage Tweets – Curated tweets by SparxTrading
From the Forums
Dough Another Day
In the popular movie franchise, Bond never dies. In the world of DIY investing, things might be different for the asset class that shares a name with the suave spy. An investor asks in this post if bonds are dead and if we all should be changing the "safe" part of our investment portfolios to something else, such as preferred stock ETFs. Redditors have much to say on the topic.
Topped Up
In this post, a 31-year-old investor with a full TFSA, full RRSP, and no interest in owning a home right now asks what to do next, especially to minimize taxes. Redditors offer opinions on everything from unregistered accounts to reconsidering the benefits of home ownership.
Into the Close
That's a wrap on another eventful week. It's hard to believe, but March is almost over. With Easter just around the corner, it means that this week is going to be a shorter one in terms of trading days. Lots has happened this month, and with so much going on it's challenging to know where to point the spotlight. One place that does deserve more attention, however, is the inequality between women's sports coverage and treatment versus men's. While we technically shy away from making investment recommendations, it's plain to see that underinvesting in women's sports is a wrong that needs to be corrected. So, to close out the month, this tweet on the NCAA women's basketball tournament seemed fitting to post here.
"Thank you for using the three biggest weeks of your organization's year to expose exactly how you feel about women's basketball – an afterthought."@GTWBB Coach Nell Fortner's letter to the NCAA: pic.twitter.com/dqUQj4D770

— espnW (@espnW) March 23, 2021