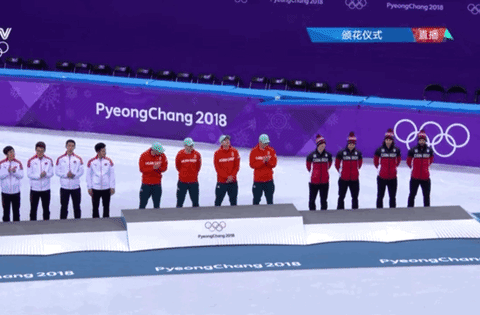 It's hard to believe but time flies when you're winning medals. Team Canada has had a great run at these Olympic games and not too long after the games are over so too will some online brokerage deals and promos as well as the chance to contribute to RSPs for the 2017 tax year.
With the RSP contribution deadline looming, this week's roundup is a blend of news centred around the RSP deadline and what that means for Canadian discount brokerages and DIY investors. First, we take a look at how the clear winner in the rankings race this past year has made some championship moves in promoting their win. Next break down the math on some online brokerage offers to show how savvy investors can get creative with deals and save/receive even more. As usual, we'll also check in on Twitter to recap the latest chatter from investors and showcase a pair of posts highlighting what folks were talking about in the forums.
Making A Splash
The ripple effect of the online brokerage rankings continued to permeate the news with online investors this week. For those who missed last week's roundup, Qtrade Investor took top spot in the Globe and Mail online brokerage rankings and in doing so ranked at the top of or near the top of all the major online brokerage rankings for 2017.
This week, Qtrade Investor officially published a news release announcing their win but, in an even more interesting maneuver, also published the full online brokerage rankings article on a cleverly crafted page with the url: join.qtrade.ca. This year's online brokerage rankings were made available only to subscribers of the Globe and Mail, so on a number of levels, Qtrade Investor publishing the article in its entirety (with permission from the Globe and Mail) means that curious readers can find the full text of the rankings without having to pay for a Globe and Mail subscription. Well played Qtrade.
With just a week to go until the RRSP contribution deadline, there will likely be many last-minute DIY investors who will be looking to get their contributions in for the 2017 tax year. So, it's game on for Canada's online brokerages to do their best to land new assets before the RSP buzzer hits.
As we noted last week and yet again, online brokerages like Interactive Brokers and Scotia iTRADE are pushing the advertising button with some unmissable campaigns on BNN.
And, speaking of BNN, this week there was also a segment on choosing an online brokerage in which Glenn LaCoste of Surviscor offered up some perspective on Canadian online brokers as well as provided some tips on choosing an online brokerage.
This interview provided an interesting perspective about how online investors could approach shopping for a new online brokerage provider, namely that rather than just stick to one online brokerage, that DIY investors try going to several brokerages to see what might work. Ultimately, LaCoste recommends the 'try before you buy' approach with the value proposition for each particular online brokerage really coming down to the convenience and relevance of features that investors use.
Clearly, choosing an online brokerage is on the minds of many investors heading into the RSP deadline. And, as luck would have it, this year there is also a bumper crop of deals and promotions to choose from for either switching online brokerages or for choosing an online brokerage for the first time.  Keep reading for highlights of the offers set to expire at the RSP contribution deadline.
An I-deal Combination
This year's RSP contribution deadline offers more than just stress to some procrastinators – it also offers the prospect of a deal or promotion for opening up an online investing account. There are lots of great deals and promotions to choose from however time is running out on a few promotions timed to expire at or just ahead of the March 1st deadline. When we reviewed the offers that were set to expire by March 1st, an interesting pattern jumped out – namely that they were all cash back bonuses and that most of these were being offered by big bank-owned brokerages. So, in typical fashion, we thought it might be interesting to compare these offers and to also see how DIY investors can get the best return on their business with some creative shopping.
First, a quick recap of all the open cash-back offers at Canadian discount brokerages shows that there are numerous offers for investors to choose from. To help make shopping a little easier, we've colour coded the highest cash back offer in each deposit range with green being the highest and red being the lowest.
Now, as with all things, the details are important to pay attention to when looking at these offers. Specifically, for two online brokerages, HSBC InvestDirect and TD Direct Investing, in order to qualify for the offers, a certain number of trades must be placed. Also, the offer by BMO InvestorLine does not include TFSA accounts while the offer by CIBC Investor's Edge is only for registered accounts (TFSA and RRSP accounts). Still, for anyone shopping for an RRSP online investing account, there is a lot of choice.
Of the offers mentioned above, the following four offers are set to expire at or just before the contribution deadline of March 1st.
| | | | | |
| --- | --- | --- | --- | --- |
|  Online Brokerage | Expiry Date | Cash Back Range | Deposit Range | Special Conditions |
| CIBC Investor's Edge | 3/1/18 | $100 – $400 | $25,000 – $100K+ | TFSA, RRSP only |
| Qtrade Investor | 2/28/18 | $50 – $1,000 | $50,000 – $1M+ | None |
| TD Direct Investing | 3/1/18 | $100 – $1000 | $10,000 – $500K+ | Need to make 5 trades to receive bonus |
| Scotia iTRADE | 3/1/18 | $50 – $1200 | $25,000 – $1M+ | Pre-paid Visa gift card |
For some investors, the decision about which online brokerage to choose won't necessarily be dictated by what promotions are being offered, however savvy and experienced investors do pay attention to, and occasionally are swayed by, the offers being advertised.
Of course, for DIY investors that are looking to maximize the return on the opening of a new account, they may use the deal amount to be the deciding factor when trying to pick between two closely related online brokerages.  For example, an investor with $100K to invest in an RRSP could land $400 from CIBC Investor's Edge instead of $188 for going with HSBC InvestDirect.
In most instances, DIY investors will only want to open one account and doing so would net the best offer anyway, however in a handful of instances, investors with higher portfolio amounts and a real desire to maximize their returns could also consider opening up multiple accounts.
Consider the following. With a $400K portfolio the best offer at a single institution is $750 (at BMO InvestorLine). If, however, that same $400K is divided up across four offers at the $100K deposit level at four different brokerages, the reward jumps to $1,150 (and it goes to $1200 if taking advantage of stackable refer-a-friend offers).
This is really interesting when one considers that the maximum cash bonus being offered for deposits is $1200 which requires $1M+ at Scotia iTRADE. In fact, it "only" takes $400K to get more cash back than with a deposit of $1M+ at all of the other brokerages (except iTRADE).
Yes, it is more work (some might argue more work than it's worth) however for higher portfolio amounts, this strategy can yield some intriguing results. The savvy investor with a $1M portfolio can actually land $2050 in cash bonus back rather than $1200 by opening up five online brokerage accounts instead of just one.
Aside from just trying to chase bonuses, there are other advantages to diversifying between brokerage accounts, namely that investors can get access to features that are unique to each (e.g. research).
This year there are a lot of offers and choices for DIY investors to consider and ultimately benefit from when opening an online trading account. For the extreme deal seekers, this also creates some interesting opportunities to sample several brokerages and get paid a little more for the effort of doing so.
Discount Brokerage Tweets of the Week
Lots of chatter about registered accounts, new account openings and some garden variety technical difficulties. Mentioned by Canadian DIY investors were BMO InvestorLine, CIBC Investor's Edge, Questrade, RBC Direct Investing, Scotia iTRADE, and TD Direct Investing.
Discount
Brokerage Tweets – Curated tweets by angeloAtSparx
From the Forums
Comparing Questrade and BMO InvestorLine
Fine tuning a passive investing portfolio is always interesting for DIY investors. In this post from reddit's Personal Finance Canada section, one user is looking to get some commentary on Questrade and BMO InvestorLine for maintaining a couch potato approach.
Better Terms
One of the goals of SparxTrading.com is to provide DIY investors with better information and better value when hunting for and opening online investing accounts. It was an interesting observation on referral offers in this post from reddit's Personal Finance Canada that calls out some important details about the way in which referral offers work. Good to read for individuals interested in the Questrade referral code offer which is widely published.
Into the Close
That's a wrap for this week. While our closing won't be as elaborate as the closing ceremonies for the Winter Olympics we can toss in some appropriately themed music to take DIY investors into the week before the RSP deadline. Stay warm (especially the Vancouverites!) and enjoy the festivities – team Canada has lots to celebrate this year!