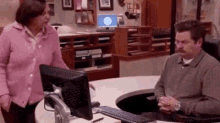 While talk may be cheap, not talking is turning out to be very expensive for two major market moving voices. Ironically, it is the power of conversation that online brokerages are hoping to tap into and yes, for those that aren't part of the new conversation on money and wealth management, their silence might just turn out to be very costly indeed.
In this week's roundup, we take a look at a recent investor education event that provides an interesting indicator of measuring engagement in financial content, and how one Canadian online brokerage is well out in front in the content game. Next, we cast the radar wider than normal to see the big picture forming for online brokerages in Canada and the U.S. and what that might mean for DIY investors on both sides of the border. As usual, we've got our staples of investor tweets and forum chatter to close things out.
TD Direct Investing Levels Up Investor Education
When it comes to analyzing the stock market, there are all kinds of indicators that investors use to track performance and progress. From MACD's to Bollinger bands, indicators tend to provide some measure of investor sentiment.
Interestingly, when it comes to measuring the sentiment around investor content, there's an uncommon indicator that reveals something about the nature of the investors consuming it: hair.
Having sat through countless investor education events and investing seminars (many of those from the back of the room) there has been a constant indicator of who actually attends. Historically, the view of the hair colour (if the hair was there at all) was typically on the lighter end of fifty shades of grey.
It is against this backdrop, however, that the recent investor education event sponsored by TD Direct Investing, entitled "Levelling Up Your Money" stands out as somewhat unique.
Full house for Level Up Your Money with @BrokeMillennial and @jessi_moorhouse and @barrychoi! #LUYM pic.twitter.com/agzOLHPNl5

— Beau Humphreys (@beauhumphreys) May 7, 2019
From the picture shown above (sourced from Twitter) it is immediately clear that, in addition to being well attended, the "hair" indicator reflects a very different demographic in the room compared a picture below taken at the biggest investor conference in Toronto, the MoneyShow.
Ryan's presentation at the World Moneyshow Toronto. pic.twitter.com/OOwsJZ71DB

— 5i Research Inc. (@5iresearchdotca) September 9, 2017
Gradually, it appears that a shift in the demographics of both audience and presenters is taking place. There seems to be a new wave of voices and consumers providing and seeking out investment information and education resources.
This past week's panel featured a solid range of millennial personal finance voices, including Jessica Moorouse, Erin Lowry, and Barry Choi. The focus of this session was on investing, financial planning, and the reality faced by millennials deciding how and where to get started with investing.
What is noteworthy about this particular event is that TD Direct Investing was the title sponsor on an event that brought together a selection of younger personal finance voices that have a direct connection to a "millennial" audience. The result – younger people coming to attend an event in real life to learn about money and wealth.  For TD Direct Investing, it was a unique opportunity to be in the room with and get access to the target pool of their next wave of clients.
Taking it a step further, TD Wealth also featured one of the speakers at the event, Jessica Moorhouse, on a recent edition of their original program Money Talks to discuss millennials and investing.
One reason that this event and the subsequent feature on the Money Talks segment matters is because when it comes to attention and winning "mindshare" with DIY investors, content and influence are two important ingredients.
In terms of producing financial education content, TD Direct Investing is arguably the leading online brokerage in Canada for creating and deploying structured financial education related to investing (especially DIY investing).
They have also historically been very adept at providing "in-person" events and this latest iteration shows what happens when popular online personalities get a platform in the "real world" to provide a session to curious and enthusiastic followers.
Tactically speaking, this puts other Canadian online brokerages in a challenging position to supplement their offering with something as compelling from an educational content standpoint. For consumers looking to learn more about investing, and who base their choice of which online brokerage to go with, TD Direct Investing's educational content makes them a hard contender to beat.
A second important observation of this event is that the coveted millennial audience is out there and they are curious about learning about investing.
With a big-bank-owned brokerage taking the lead in reaching out to this demographic, it could kickstart activity from other Canadian online brokerages to do the same.
We have already observed a shift in the frequency and style of several other online brokerages' content efforts to make them more accessible to a contemporary (read: younger) audience. TD Direct Investing's latest move means that those online brokerages interested in reaching that same demographic are going to have to, ironically, level up their game to go beyond just execution price to gain traction with a younger investor.
A Convenient Truth
Despite the differences broadcast in the news between Canada and U.S., one thing that online brokerages on both sides of the border face as a challenge is looking for ways to grow their business. This past week, there were interesting stories on both sides of the border that collectively point to a strategy of diversification on the part of online brokerages to keep their businesses economically viable.
Case in point, even though the heady times of early 2018 are in the rear view mirror for cryptocurrency traders, late last month a Bloomberg story reported that one of the well known online brokerages in the U.S., E*Trade Financial, is going to enter into the cryptocurrency trading space by enabling direct trading of Bitcoin and Ether. Direct competitor to E*Trade, TD Ameritrade, has also been reportedly quietly testing Bitcoin trading (not just the futures trading which is already available on their platform). With Robinhood already well out in front of the "crypto" trend at online brokerages with their launch last year of cryptocurrency trading, the normalization of crypto trading at online brokerages may be soon at hand. For Canadian online brokerages, this is one trend that could help to ignite a connection with millennial investors and those investors who seem more comfortable with the digital currency trade.
Perhaps the most compelling example of the evolution of the "online brokerage" into a holistic financial management platform is with Interactive Brokers. They have gone from the platform of choice for active traders to an "integrated" model that lets clients earn, borrow, spend and invest.
Meanwhile, in the Canadian online brokerage space, the recent example of independent online broker Questrade adding a residential and commercial mortgage lender, Community Trust, to their stable of services signals a major step change for this financial services provider who started out focusing on DIY investing.
With new competitive forces continuously pushing commission fees ever lower, there are examples in the U.S. and Canadian markets that reflect how online brokerages are responding: diversification. What that means for DIY investors appears to be that as wealth and money become increasingly digitized, the line between traditional banking service providers and traditional investing services is going to get very blurry.
As the mammoth valuations on Uber and Lyft highlight, convenience culture is alive and thriving.  If any online brokerage north or south of the border can walk the tightrope of being compliant with regulations while also providing an experience to access financial services that screams convenience and reliability, it won't just be on our radar, it will be on a lot of others' too.
Discount Brokerage Tweets of the Week
Discount Brokerage Tweets – Curated tweets by SparxTrading
From the Forums
Start Your Engines
With the launch of Uber's brand-new IPO, one DIY investor has questions about the best time to invest in this company. See what other forum users had to say in this RedFlagDeals thread.
Getting Invested
One DIY investor has contribution questions after being offered a chance to invest in their company at a discount. See what advice fellow Redditors provided here.
Into the Close
That's a wrap on another edition of the roundup. While there's controversy on the origin of the phrase/curse "may you live in interesting times," there's probably more agreement on the fact that we're living through those very interesting times. After a nail biting weekend courtesy of the Raptors, Game of Thrones, and trade talks, there's a pretty high bar for the next week to surpass in terms of "interesting." Here's hoping there's something boring to talk about next week!