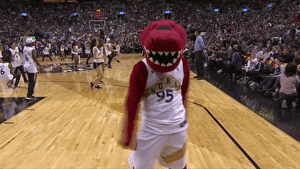 Whether it was the Raptors or Game of Thrones fans, it was good news (mostly) for the North all around on this long weekend. While the popular HBO series has now officially wrapped, it looks like a different video series is starting to command the attention of Canadian investors and the envy of some online brokerages.
In this edition of the roundup, we review a new investor education series produced by a new name in the online investing space that is sure to make waves with millennial investors as well as those online brokerages also hoping to connect with that audience. From there, we review an interesting blip on the growth radar for one popular US online brokerage that could be a sign of clouds brewing on the horizon for the traditional players in the space. As always, we've got a great recap of investor chatter with conversations from Twitter and the investor forums.
Battle for Investor Education
Adulting, like investing, can be like, hard. Fortunately, there's YouTube. And now Wealthsimple. So goes the premise of the latest investor education series to come to market from the best known name in the robo-advice space in Canada.
Although a new investor education initiative from Wealthsimple launched in mid April, it is worth putting the spotlight on this video series because, as mentioned in last week's roundup, it appears that the battle for the millennial investor's attention (and wallet) is starting to heat up. And, it appears that one of the key battlefronts will be in the investor education piece.
Like most things that set Wealthsimple apart from most of the established pool of wealth/financial service providers in Canada, this latest video series is a reflection of investor education done "Wealthsimple style."
Teaching the basics of investing in an easy to follow, engaging format is not easy, but Wealthsimple's investor education series manages to do just that. That means their content is well designed to resonate with a younger – or beginner – audience by using plain language, humour and keeping things (mostly) brief.
In addition to the content, the delivery is also on point. Host Nicholas Braun (himself a 31-year old) is cast to relate well to the millennial audience, with the right balance of humour and information that makes sitting through a video on investing actually interesting. Rather than dwell on too many facts or theory, the videos lean heavily towards a "how-to" style that is likely familiar to most younger audiences who turn to YouTube to help solve many a life problem.
The series itself is split up into 10 episodes, with 8 out 10 of those episodes taking less than 4 minutes, one taking just under five minutes, and the longest coming in at 8 minutes.
What was especially interesting about this video series is that it very much reflected the Wealthsimple view of the world: that passive investing strategies are a sound way to build wealth.
While it probably is no surprise that they did so, what was interesting about how they went about positioning investing was that it is something to do after attending to other more immediate financial priorities – like focusing on paying down high interest credit card debt and creating an emergency fund, before jumping into investing.
In that way, the message about getting started down the road to investing didn't come off as pushy or selling something you won't be ready for, but rather an important milestone to reach after getting one's financial house in order.
Of course, it wasn't all entirely selfless, impartial content on how to navigate the stock market. Wealthsimple clearly has skin in the game in turning viewers towards a passive investing solution and does make it a point in latter videos to mention how viewers can achieve investing goals/outcomes by using Wealthsimple's products, including their Wealthsimple Trade product for those moments when investors want to try their hand at investing directly in a specific company stock.
As with their robo-advice product, this investor education series reimagines what it is like to learn about investing. Instead of the standard powerpoint presentation webinars or low-budget cartoon explainer videos, Wealthsimple has once again set the bar high for other financial service firms to try and match the mix of information and entertainment that these videos deliver, and do so in a way that looks and feels authentic to the audience and the brand.
What is especially important to point out about this investor education series is that almost none of the information delivered is new information about the world of investing, but it is a far cry from the approach that historically (and even currently) characterizes the way other online investing providers approach investor education content.
It will be interesting to see whether this move by Wealthsimple kicks off a trend of younger voices telling others about the "how-to's" of investing – it might already be happening as we mentioned last week. Of course, there is still an entire cohort of investors who might respond better to an older actor/personality for the same kind of content. In any event, the race is on for just about every Canadian online brokerage to once again put investor education back on their radar if they hope to balance out the narrative on DIY investing. At this point, commercials, cartoons, and long articles aren't going to cut it any longer.
Canary in the Online Platform
While scanning through the online brokerage news this past week, yet another interesting data point crossed our radar from US online brokerage E*Trade Financial: a remarkable stall in the number of new retail investor accounts.
Last week, we had noted that along with the recent lift in cryptocurrencies, there was news of E*Trade Financial (as well as TD Ameritrade) exploring the ability of clients to trade Bitcoin and Ethereum on their platform in the near future. That was the good news.
The not so great news to cross the wires this week was an important number related to the growth of E*Trade's retail (aka online brokerage) business in the US last month. As part of a recent update on their performance figures, E*Trade reported a sharp decline in the number of net new retail clients compared to the previous month (-95%) as well as relative to the past year (-84%). The total net new clients to join E*Trade in April worked out to just 1,219 – which on a total retail client base of just under 5.1 million accounts is basically a rounding error (0.02%).
After what appeared to be an incredibly busy March, the volume of new retail online accounts effectively dropped off a cliff and could be a harbinger of headwinds for the US online brokerage space in the face of mounting low or no commission competition and jitters around an inverted yield curve.
Another interesting data point which might support that thesis: the news in April by TD Ameritrade's CEO that they dramatically reduced their marketing spend because "fish weren't biting" in the first quarter.
It is against that backdrop that the metrics at Interactive Brokers, specifically around account growth, stand out as interesting. Interactive Brokers' client base continued to grow at a steady clip, adding 8,200 clients over April. Of course, it should be noted that Interactive Brokers did not report the figures for growth specifically in the US, which would allow for a more accurate comparison with E*Trade's figures. Also to clarify, E*Trade changed the way in which they counted and reported their client growth metrics, combining banking and online brokerage accounts under the "retail" category – so not all the retail clients listed actually reflect online brokerage customers.
These headwinds come at an interesting time, as the Robinhood IPO on the horizon could see challenges to growing a user base that might be waiting on the sidelines because of macro concerns about being exposed to markets at this time. Conversely, it could be that Robinhood is the cause and benefactor of E*Trade's drop off in popularity.
It is going to be particularly interesting to see where E*Trade's client growth numbers trend over the next month or two because of the hot IPO market, and whether that would have been enough to propel new investors into the DIY investing game. If it turns out that even with one of the biggest rosters of IPOs in recent memory can't coax investors into the market, then it won't only be US online brokerages that have a problem to contend with – that is something that could very well spill over to Canadian investors. Like the inverted yield curve, it might be a signal of a pullback to come.
While cryptocurrency trading could help to reinvigorate the new client growth figures for E*Trade in the near term, there is definitely something that impacted the pace and enthusiasm of retail investors participating in the markets in April – at least through E*Trade. It might be competition from disruptors like Robinhood and even JP Morgan offering commission-free trading, or it could very well be investors being spooked by uncertainty (or worse) in the markets. Stay tuned.
Discount Brokerage Tweets of the Week
Discount Brokerage Tweets – Curated tweets by SparxTrading
From the Forums
Child's Play
One forum poster wants to know more about the best way to get their children into DIY investing. See what advice they received on this Canadian Money Forum thread.
Homing in on Strategy
A DIY investor has questions on whether to purchase real estate or invest in ETFs. See what fellow Redditors had to say here.
Into the Close
That does it for another edition of the roundup. Canadian markets have the day off on Monday, but it's safe to say most traders of crypto and other stories will be looking for trading setups and tuning into what's happening over the fence in the US markets. The only thing that seems certain in the weeks ahead now is a lot more uncertainty. So, the irony is that while one series of games has ended, another one continues to drag-on.