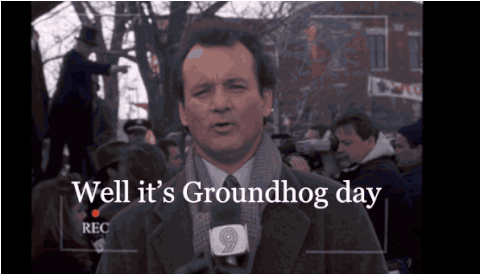 Welcome to February. Instead of V for Valentine's it appears that the first V is for volatility. Gravity kicked in very quickly for stock markets this week, as it often does, when supply suddenly outstrips demand. Curiously, for online brokerages, demand continues to be strong, and investor demands continue to increase.
In this Groundhog Day edition of the roundup we recap the week's developments starting first with the continuing saga of DIY investors trying to navigate outages and client service delays. From there, we shift to happier news, namely the latest deals and promotions to cross the wire from Canadian discount brokerages. Also, we'll take a look at the latest investor education initiative from a bank-owned online brokerage that may breathe some life into this subdued sector. As always, we'll scan what DIY investors were talking about on Twitter and in the investor forums.
Deja Queue
It's somewhat ironic that on Groundhog Day that we're once again revisiting the news that online brokerages are fumbling in early 2018. As coincidental as the timing is, the movie Groundhog Day has become a popular example of history repeating itself unless things change, and for many DIY investors in Canada, this feels like deja-vu all over again.
For several of Canada's large bank-owned online brokerages, wait times for phone agents and technical difficulties for trading platforms continue to be high. It has now reached a level that brokerages have taken to posting messages on the front end or the welcome screens on the backend that issues persist.
In monitoring the recent struggles of DIY investors to connect with Canadian online brokerages, one very interesting trend is emerging. Specifically, because online brokerages are either slow to address clients on phone lines or are experiencing multiple platform or feature outages, DIY investors are taking to Twitter to notify members of the media to intervene.
While it's not without precedent, the pace and magnitude of media personality participation in 2018 is something the Canadian online brokerage industry should be incredibly concerned about. Not only are DIY investors learning to tweet at members of the media about the issues that are occurring, but members of the media are responding.
Last month, the Globe and Mail's Clare O'Hara published an article that shone a spotlight on the tribulations of DIY investors' trading platforms going down. Even more intriguing are examples such as an exchange this past week on Twitter between a Scotia iTRADE client and the personal finance writer at the Toronto Star, Ellen Roseman.
From an outsider's perspective, it appears that escalating client service issues to members of the personal finance media expedited a response.
And this is not an isolated incident. Notifications to anyone and everyone who may listen – including the media, is now something Canadian discount brokerages need to be prepared to handle. If the teams at online brokerages were already overwhelmed, this extra strain certainly doesn't make things easier.
Of course, the longer it takes the Canadian discount brokerage industry to address response times and stability issues, the louder the complaints will get and inevitably DIY investors will go beyond tagging media and begin approaching regulators to comment or address what's going on. And, at that point, for online brokerages it may start to feel like a bad dream come true.
Deals and Promotions update
As we profiled last week and in the deals and promotions section, there is a lot of choice when it comes to cash back offers from Canadian discount brokerages. In total, there are eight online brokerages offering a cash back deal and of those, five different online brokerages have the 'best' deal (i.e. offer the most cash back) depending on the amount deposited.
For commission-credit offers, however, the field is much smaller and there is a clear difference between the highest offer and everyone else.
Before diving into this month's top offers, it's useful to point out that commission credit offers are those for which an online brokerage provides a refund/rebate or credit for the entire trade commission. There are offers from Jitneytrade and Virtual Brokers which do offer discounted commission rates, but those have not been included here.
Another interesting quirk about commission credit offers is that they are generally time-limited. As such, it is important to be clear on how long you have to use the commission credit and when you may receive the rebate/refund for the commissions on those trades if that is the structure of the offer.
Currently there are four online brokerages that offer commission credit promotions. Specifically, BMO InvestorLine, Desjardins Online Brokerage, National Bank Direct Brokerage and Questrade each have offers.
As shown in the table above, when it comes to commission-free trade offers, Desjardins Online Brokerage currently has the most competitive offer for deposits over $10,000.  Although qualifying for Desjardins' offer begins at deposits of $10,000 (which offers 10 trades), National Bank Direct Brokerage's offer of 10 commission-free trades is slightly better than Desjardins' offer of the same amount of trades because the time frame to use the trades is 1 year with NBDB versus 6 months for Desjardins Online Brokerage's offer.
For deposits of between $1,000 and $10,000, the exclusive Sparx88 offer with Questrade offers up at least 9 commission free trades. Because Questrade has variable pricing, we used the most expensive commission price of 9.95 per trade when estimating the number of commission-free trades available. In the best case of all trades costing $4.95 per trade, however, investors can receive up to 17 commission free trades. Another perk about this specific promotion is that there is a 60-day window to use these trades rather than the standard 30 days.
Whether it is commission-free trades or cold hard cash, the great news for DIY investors is that February 2018 seems to be a fantastic month for promotions when opening up a new online trading account. With close to 30 offers to choose from and a very strong selection, DIY investors are almost certain to get a little something extra for joining a new online brokerage or transferring assets into an existing account.
National Bank Direct Brokerage Offers Options Education
Although investor education has been largely on the backburner for many Canadian online brokerages over the past year, National Bank Direct Brokerage and the Montreal Exchange are putting options education back into the spotlight with a new webinar series.
Starting in mid-February and running through to early June, this six-webinar course will run through the basics of options trading. Topics for this series include:
Options fundamentals (Feb. 13th)
Option strategies for RRSP & TFSA (Mar. 14th)
Options trading: Myths and reality (Apr. 4)
Options trading mistakes to avoid (Apr. 25)
Options as a hedging strategy (May 16)
Options as an income strategy (June 6)
Montreal Exchange also has run options education days in cities across the country for the past few years, as well as provided considerable options education resources so they are seasoned providers of investor education in this space.
For individuals who can't attend the webinar live, there will be recordings of the session posted to the webpage here.
Even More Passive Investing
This week, Vanguard Investments Canada launched a series of three ETFs that are sure to get the attention of DIY investors interested in simple passive investing strategies. In fact, they already have.
Earlier in the week the Globe and Mail's Rob Carrick published an article describing the three funds: Vanguard Conservative ETF Portfolio (TSX:VCNS); Vanguard Balanced ETF Portfolio (TSX:VBAL) and Vanguard Growth ETF Portfolio (TSX:VGRO).
With asset allocations baked into a single ETF and with low management costs, the most striking observation made by Carrick was that these products are "simple enough to steal some business away from robo-advisers."
And, that business, could be stolen by online brokerages. Specifically, online brokerages that offer commission-free ETF trading, such as National Bank Direct Brokerage, or those that offer commission-free ETF buying (Questrade and Virtual Brokers), could stand to benefit the most. The combination of low/no commission fees and simplicity of management mean that online brokerages can market to passive investors with messaging that doesn't promote someone having to make numerous trades; instead the goal can be asset gathering, which is another way in which online brokerages can generate revenue.
Discount Brokerage Tweets of the Week
Mentioned by Canadian DIY investors were BMO InvestorLine, CIBC Investor's Edge, Questrade, RBC Direct Investing, Scotia iTRADE, and TD Direct Investing.
Discount
Brokerage Tweets – Curated tweets by angeloAtSparx
From the Forums
Gimme a reason
It's not often that we see a post from a DIY investor who wants to switch but just needs to be sold on why. Interestingly, in this post from reddit's Personal Finance Canada thread, one investor did just that by asking for a reason to switch away from Credential Direct. Even more interesting, however, were the responses on just how to structure an exit to incur the fewest fees.
Quick start
It's no secret that DIY investors hoping to open an online trading account have encountered delays in the application process that can last for days. According to this post on reddit's Personal Finance Canada thread, however, there is one online brokerage that happens to be able to speed up the process considerably. Find out who's getting ahead of their peers in the race to bring new clients on board digitally.
Into the Close
That's a wrap for another eventful week. This weekend will also likely be just as eventful (especially for sports fans).  After such a rough week in the markets, probably the best chance for cryptocurrency 'traders' and cannabis investors to see green is by tuning into the Super Bowl on Sunday or by reaching for the guacamole. Have a great weekend!