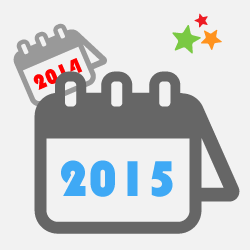 *Edited Dec. 22/14* What an exciting year to be a DIY investor. As an active observer and commentator on the landscape of Canada's online brokerages, we've seen some dramatic changes this past year. Whether it was reduction in commission pricing, changes in account types or enhancements to platforms, user experience or investor education, 2014 presented no shortage of exciting developments.
With so many online brokerages, DIY investors now enjoy more choice in terms of who they want to end up doing business with and how they want to trade online. The flip side to the benefit of having so much choice, however, is actually keeping up with all of the innovation that's taking place amongst online brokerages.  Every time a new feature, like a platform or a new order type, comes out, there is a lot of information that goes with it.
In their own words
So, in keeping with our continued efforts to track and structure the information coming from Canadian online brokerages, we thought it would be great if we gave Canada's online brokerages the opportunity to give investors their own take on 2014 and also to provide everyone with a preview of where 2015 is heading.
We reached out to all the brokerages and were more than pleased with the response we received to participate. Our request was simple. We asked that brokerages provide SparxTrading.com readers with a recap of 2014, perhaps with milestones or achievements as well as to provide some direction as to what's around the corner for next year.
What follows is a really interesting (in our opinion) compilation of voices of 8 9 of Canada's most influential and visible online brokerages – from bank-owned online brokerages to independent brokerages. It is clear from reading these submissions that 2014 was a busy year everywhere. Nobody was standing still. Even more interesting, however, are the hints and previews online brokerages have shared for 2015.
| Table 1: Canadian Online Brokerages Participating in the Year in Review | #colspan# | #colspan# |
| --- | --- | --- |
| Click on a logo to read the review of that particular brokerage. | #colspan# | #colspan# |
| | | |
| | | |
| | | |
Getting up to speed
Heading into RRSP deadline season and the first half of 2015, we know that there will be many individuals who are either considering online investing or who are already with a provider and would just like to better understand the landscape of choices that are out there.
This compilation is a great starting point to learn more about each of the providers listed. They are certainly a diverse group of providers which is reflected in the different ways in which each has written their submission. In our opinion, this diversity will become one of the biggest themes for 2015.
With standard commission pricing having dropped significantly across several brokerages, the focal point will turn to standing out. Our view on this is that 'standing out' will be achieved by being 'outstanding'. That means improved service, pricing (yes, we still think there's room to go lower for some), features and user experience.
We believe that in 2015, Canada's online brokerages will work even harder to differentiate themselves from one another. And, as was the case in 2014, we are looking forward to tracking these developments and helping our readers make sense of them all as they unfold.
Click the logos above or the page numbers below to read this year's submissions.
Editor's Note: We received a submission from CIBC Investor's Edge after our original publication date and so we have included their submission as part of this series. For functionality purposes, however, we have placed their submission at the end of the series rather than in alphabetical sequence.