*Edited Dec. 22/14* It looks like December isn't going to go quietly. With huge volatility coming into the markets, traders are certainly cheering. Canada's discount brokerages are also not wont to stand still going into the year end. Whether they're gearing up for a busy 2015 or pushing hard into the finish line of 2014, this is definitely a year for the record books all around.
In this week's roundup, we take a look at a major compilation of Canadian online brokerage's perspectives on the year that was and the year upcoming. Following that we take a look at one online brokerage that had a change at the top, a brokerage that decided to launch an early Christmas gift to potential clients, some news from a technical analysis provider and round out with some festive forum banter.
Online brokerage year in review & preview
2014 has been a wild ride for DIY investors. It started with a boom and is ending with a bang.
This past week we released our exclusive compilation of perspectives from 9 Canadian online brokerages. Here is the list of discount brokerages that participated (the links go to their particular submission):
Regardless of their size or focus, when compared alongside one another, there was a wealth of information about the year that has just passed.
Without question, commission price lowering was one topic that stood out almost across the board. As each discount brokerage showed, however, price wasn't the only place they sought to evolve. New features, order types, services, platforms, investor education offerings and service experiences were among the other areas that brokerages were all actively working to improve in.
Something that was really special about this compilation was what certain brokerages were able to share about what's coming around the corner for 2015.
For example, in our recent interview with Nancy Paquet, President of National Bank Direct Brokerage, she shared with us the focus that NBDB will be placing on investor education – however they're not alone. In addition to NBDB, brokerages such as Desjardins Online Brokerage, Scotia iTRADE and TD Direct Investing are all highly active in terms of providing investor education and plan to be even more so in 2015.
What was interesting to learn from the year in review compilation was that Credential Direct may be looking to augment its educational resources as well as the news that Jitneytrade has been partnering with educational providers. Even for several brokerages that didn't participate in the year-end review, we've learned that investor education is going to be a priority in 2015.
As a lead into the holiday season this year, we thought it would be great to offer up the top 5 themes we saw emerge from the year end compilation. With so much information provided by the brokerages, we've put together a fun way to learn about what the brokerages had to say. Here's a teaser from day one of the top 5 countdown. We'll be releasing one a day over the next 5 days exclusively on our twitter feed.
Qtrade announces leadership changes
This past Wednesday, Vancouver based online brokerage Qtrade Financial announced that CEO Scott Gibner and President and COO Joe Perrin will leave the organization as of January 16, 2015.
Bill Packham, who is the Co-Chair of the Qtrade Board of Directors, will take over as interim CEO, as the firm seeks to make a permanent appointment.
The announcement comes just weeks after Qtrade earned top billing in the annual Globe and Mail Online Broker Rankings. In a statement, Qtrade's Board Co-Chair and Director, John Sibley, thanked Gibner and Perrin for their "vision, inspiration and dedication to Qtrade."
Packham brings along several years of executive experience having served as the Co-Chair of Qtrade's Board of Directors since the completion of the arrangement transaction between Qtrade and Desjardins Group in April 2013. He is also Executive Managing Director, Wealth Management and Life and Health Insurance with the Desjardins Group.
National Bank Direct Brokerage launches new deal
December continues to be a big month for news. In the deals & promotions department, National Bank Direct Brokerage boldly launched a rather sizeable commission-rebate offer going into the holiday season – perhaps as an early Christmas gift to potential new clients. The offer provides up to $500 in commission fee rebates for deposits of $20,000 or more and rebates of up to $1,000 for deposits of $100,000 or more. Click here to read more about this promotion.
A technical win for Recognia
The maker of the most popular technical analysis platforms among Canadian brokerages, Recognia, was acquired this week by Paris-based investment research firm Trading Central. Headquartered in Ottawa, Recognia actually services over 45 brokerages in 12 countries with their various software platforms. Most DIY investors would recognize Recognia's flagship 'Technical Insight' tool as part of the suite of research/tools for technical analysis provided by their online broker.
Event Horizon
Things have quieted down significantly on the events front going into the Christmas holidays. Here is the lone event featured for next week:
Dec. 23 (Tues) Scotia iTRADE – ETFs 101 with Horizons ETFs (Online)
From the Forums
 Chatter on Interactive Brokers
Last week we wrote about Interactive Brokers starting to offer registered accounts. Slowly news has filtered through to Canadian investor forums so we thought we'd provide a couple of threads that discuss Interactive Brokers' latest move:
Battle of the Banks
In this post from the reddit Personal Finance Canada thread, one user is considering going with CIBC Investor's Edge, TD Direct Investing or RBC Direct Investing. Find out what redditors (who normally champion the smaller brokerages) had to say about dealing with the bigger bank-owned brokerages.
That's a wrap for this week's roundup. We're right around the corner from Christmas so hopefully everyone makes it onto the nice list this year – although for the not so nice, getting some coal may not be the worst thing at this point. On another note – it's also a milestone week for the ending of a great show – the Colbert report. In case you missed it, here is a much bigger and more awesome send off than anyone on TV could really pull together.
Happy Holidays and Season's greetings to all from the crew at SparxTrading.com. We'll see you again (soon)!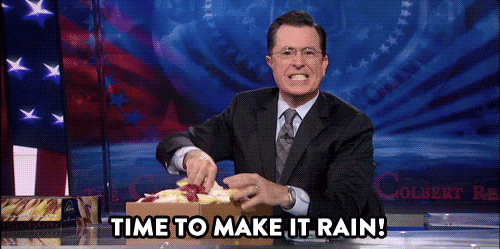 Editor's Note: The list of participating brokerages in the year in review has been updated to include a submission from CIBC Investor's Edge which was received after the original publication date.