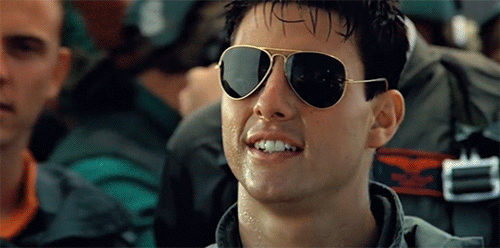 Seems like this summer, there will be more that one Maverick making waves on traders' screens. The trailer for Top Gun 2 officially dropped this past week and even though we weren't planning on a sequel, we just felt the need – the need for (a good) read.
In this maverick edition of the Roundup, we provide updates on the new shiny new TFSA account that's ready to launch one hotshot Canadian online brokerage into the spotlight with a new generation of investors. And, if that wasn't enough to take your breath away, there's a look at the performance numbers of one US online brokerage who managed to get on analysts' radar to figure out where they're heading next.
Wealthsimple Trade TFSA Now Live for All
Well, that escalated quickly. The launch of Wealthsimple Trade's TFSA account officially went live this past week, and with it, the timeline for the Canadian online brokerage industry to come up with something equally or more compelling than commission-free trades has also moved up.
In last week's Roundup, we mentioned that there were rumblings around the DIY investor forums of the TFSA roll out, as well as press coverage of Wealthsimple Trade that happened to coincide with the soft launch of the popular registered account feature. At that time, however, the official word was that the launch would be coming at some point in the next month.
Fast forward a week, and the gloves are now off in a fight between brokerages to win over Canadian DIY investors as newcomer online brokerage, Wealthsimple Trade, opened up access to their TFSA trading account to the masses.
You asked, we listened. TFSA accounts now available on Wealthsimple Trade, so you can grow your money tax-free.

— Wealthsimple (@Wealthsimple) July 17, 2019
With the official roll out, there is now more information available about Wealthsimple Trade's TFSA and, importantly, the benefits and current limitations of the account type. The clear benefit to all things Wealthsimple Trade is that trading accounts are commission-free, which now includes the TFSA.
For financially conscientious millennials trying to cut frills and costs, not having to pay trading commissions is not just a deal, it's ideal. Of course, like most things in life, if it sounds too good to be true, then it probably is, and despite commission-free trading, there are some important caveats to the Wealthsimple Trade TFSA account. One of the big limitations right now is that Wealthsimple Trade's TFSA does not support transfers into the account. Only deposits from an externally linked bank account will work as a funding source for the TFSA.
This means, for the time being, other Canadian online brokerages still have some time to figure out a game plan to appeal to investors already eyeballing the exits for a Wealthsimple Trade account. And as social media and forum chatter already are showing, the sentiment to move is real.
Of course, it's not just what's on the official page that offers some insight into the Wealthsimple Trade TFSA – the Wealthsimple Trade Twitter account is also filled with its share of useful nuggets. For example, while it was already stated that RSP accounts were on the list of features actively being worked on, the telegraphing of USD TFSA accounts was something we did not yet hear about in terms of development, especially considering Wealthsimple Trade makes part of its money from conversion fees.
While we wouldn't have assumed Wealthsimple Trade to be standing still with their feature development, the mention of USD accounts being "in development" means that one of the major resistance points for joining Wealthsimple Trade is likely going to be removed in the not-too-distant future.
Another cause for concern for online brokerage providers is that DIY investors are clearly excited about the official launch of Wealthsimple Trade's TFSA. This past week, there has been a significant amount of investor chatter taking place in the investor forums and on Twitter now that this feature is live. Suffice to say, there is nothing that other online brokerages in Canada have done yet this year that has captured the attention of the "digital crowd" the way that Wealthsimple Trade has.
In what is starting to feel like a volleyball game out of a Top Gun movie, it seems that team Maverick has made their move, in denim jeans no less, and now it's up to Canadian online brokerages to serve something back over the net.
Interactive Brokers Makes a Gutsy Call
With summer in full swing, it seems like everyone is paying a bit more attention to the forecasts. No doubt the volatile weather has something to do with it. Similarly, with the latest earnings season results trickling out of the US online brokerage market, there's a mixed bag of results highlighting some areas of potential volatility and opportunity in the DIY trading market as a whole.
While earnings reports are typically about "the numbers," there are also lots of interesting nuggets that management shares about the current and future state of the company that adds considerable colour and context to the numerical performance.
In the case of the latest earnings call from US online brokerage Interactive Brokers, it wasn't just the numbers from the earnings report that analysts were talking about, but rather, a bold new initiative launched earlier this month that had folks trying to digest exactly what Interactive Brokers is thinking.
Starting first with the numbers. Despite a year over year decrease in revenues of 7.2% and a rise in expenses of 8%, Interactive Brokers still managed to eke out another reasonably strong year. The electronic brokerage segment of the business managed to gain 7% year over year, which on the surface sounds like a win, however when peering under the hood, there are some important flags of weaker trading dynamics that are of particular interest to industry observers.
The primary area of concern is that Interactive Brokers reported a 4% decrease in commission revenue from the year ago quarter – a result explained by lower commissions per trade being executed by their clients. That is even more concerning in the face of the 4% increase in the total number of trades (year over year) and a 19% increase in the number of customer accounts.
The takeaway is that customers aren't trading the way they used to. Were it not for the interest income, this would have been an even bumpier quarter for the online broker. What this points to (and is something other brokers have had to come to terms with) is that the online brokerage model cannot rely on just trading commissions alone to keep the business afloat. Assets and margin are key revenue drivers that will help buffer earnings at least until trading behaviour shifts. Which leads into the second really interesting thing about the Interactive Brokers earnings call this quarter.
Despite earnings missing expectations, the big topic of conversation by the analysts during the Q&A session with Thomas Peterffy, founder and outgoing CEO of Interactive Brokers, was the recently announced launch of their promotional sports betting platform. Most telling was that 8 out 15 questions from analysts were about the sports betting promotion.
Perhaps the most awkward moments came when Peterffy called out analysts who were questioning the platform as to whether or not they had signed up already (those asking the questions hadn't yet). One research analyst Macrae Sykes from G. Research, LLC hadn't yet tested the platform before asking about it to which Peterffy stated "You're such a disappointment. I was so hoping that you would do that."
Despite none of the analysts who asked about the platform having actually signed up for or tested the sports betting feature, Peterffy managed to share some very interesting insight into the strategy to tap into the sports betting market for potential new Interactive Brokers clients.
First, as we reported in last week's Roundup, this initiative is clearly aimed to attract new online trading customers onto the Interactive Brokers platform. Peterffy confirmed this in the earnings call when he stated "driving new brokerage accounts is the primary purpose. I don't want to speculate about what we may or may not do with this sometime down the road. So right now, our focus is to perfect the platform and drive new brokerage accounts."
Second, analysts queried why Peterffy felt it would work as a strategy to onboard clients, and ultimately it came down to his experience in dealing with traders on the exchange floor. According to Peterffy, if traders talk about sports betting, it stands to reason that sports bettors might want to kick the tires on investing online.
Buried in that response, however, was probably the most interesting sound bite of the call.
As seen below, Peterffy expects that there could be in the order of millions of accounts that get created at Interactive Brokers as a result of this initiative. And, although he does not provide a timeline for those accounts to be created, it is nevertheless an incredibly lofty goal considering that they currently have just shy of 650 thousand client accounts.
It's hard to dismiss Peterffy's track record of success in building Interactive Brokers into the global powerhouse brokerage that it is, and yet there was clearly a lot of uncertainty on the part of analysts asking about the strategy to pursue sports bettors. Their challenge is how to value or model and predict the various scenarios that this kind of move could provide to the business as a whole. Of course, if they had a tough time getting the earnings estimate right this past quarter, they will have an even tougher time trying to track what impact the sports betting platform will have on new client acquisition.
Let's hope they have better luck actually predicting outcomes of games using the platform, as they will undoubtedly be called to the mat about it on their next earnings call. You can almost bet on it.
Discount Brokerage Tweets of the Week
Discount
Brokerage Tweets – Curated tweets by SparxTrading
From the Forums
Free Trade Agreement
It's finally here. Wealthsimple Trade has now made TFSAs publicly available and in doing so, captured the attention of many investors who now have the option of opening up no-commission registered accounts. Click here to see why this new addition has the Reddit community buzzing.
Weight and See
There's never one right answer when it comes to creating a long-term portfolio strategy. With a 25+ year investment horizon, there's always time to take on risk, but does that warrant a 100% asset allocation in equities? Find out what others have to say in this RedFlagDeals thread.
Into the Close
While summer weather is a great time to get outdoors, this week investors will be glued to earnings reports. Of course the hot air this summer might not just be from the weather. Politics and even a dangerous situation bubbling over in the Strait of Hormuz mean that we could all be on the highway to the danger zone. Here's hoping cooler heads prevail and that you're able to cruise through this turbulence right.