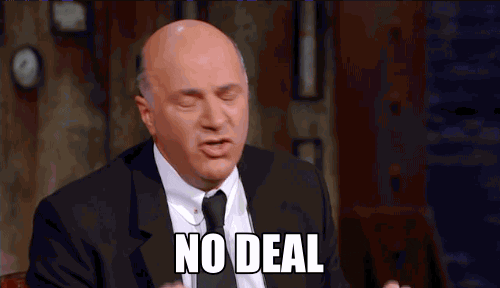 This week has been all about deals. From the frenzied (but futile) deal making to avoid the US government shutting down to the announcement of cities jockeying to make a deal to attract Amazon for a new headquarters, 2018 is already knee-deep in deal making. Also swamped with deals are Canadian DIY investors who now have well over two dozen discount brokerage deals to choose from. Of course, like all deals, it eventually comes down to the details.
In this edition of the roundup we take a deep dive into the deals and promotions up for grabs as two more Canadian discount brokerages joined in the deals frenzy this week. From there we'll check back in briefly on how the platform outage and client service wait time situation is progressing and as always, we'll close out with tweets from Canadian DIY investors and a few forum posts on what's making waves in the investor forums.
Let's make a deal
Initially this was supposed to be a simple update. Two more Canadian online brokerages, Credential Direct and Qtrade Investor, launched promotions this past week bringing the total number of advertised offers from Canada's discount brokerages to 30.
Of course, a simple question about how the two deals stacked up against one another led to an excel spreadsheet and things just spiraled from there. What can we say, comparisons are in our DNA – oh and what market junkie hasn't spent a Friday night or two making excel spreadsheets trying to find a great deal?
So, starting first with the new promotions from Credential Direct and Qtrade Investor. Both of these offers are tiered cash-back promotions which means that with greater deposits come greater cash back amounts.
The table below shows the different deposit tiers for each offer as well as the associated cash back bonus. In comparing the two offers side by side, Credential Direct's offer has a lower threshold to qualify at $15,000 vs Qtrade Investor's $50,000. Also, it's relatively clear that Credential Direct is offering up a much higher cash bonus that Qtrade Investor is for deposit levels all the way up to $250,000. For a 'narrow' range of between $250,000 to $500,000, Qtrade Investor does have a slightly better offering ($50 more) and beyond $500,000 the two bonus offers are identical. Perhaps another noteworthy difference is that Credential Direct's offer expires on March 16th while Qtrade Investor's expires on February 28th.
Credential Direct
Qtrade Investor
Deposit Tier
Cash Back Bonus
Deposit Tier
Cash Back Bonus
$15,000
$75
$50,000
$125
$50,000
$50
$100,000
$100
$150,000
$200
$250,000
$250
$500,000
$500
$500,000
$500
$1M+
$1,000
$1M+
$1000
While on the surface that seems like it might be unsurprising to learn that almost immediately after Credential Direct launched its offer, Qtrade Investor launched theirs, it becomes a bit more interesting when put into context. Specifically, it is interesting because these two brands will be merging into a single online brokerage – likely under the Qtrade Investor brand, which effectively means that clients who choose to open their account with Credential Direct will (eventually) get the benefits of becoming a Qtrade Investor client but will get a much healthier bonus to do so than those opting to go to Qtrade Investor directly.
Now, as mentioned above there are about 30 offers being advertised by Canada's discount brokerages and with the addition of the promotions by Qtrade Investor and Credential Direct, there are now more cash back (or commission-free or discounted trade) bonuses than there are transfer fee bonuses – a bullish signal that online brokerages are very motivated to bring on new clients.
Interestingly, of the 13 cash back or commission credit/discounted trade offers, 8 of them have a cash back component, which is a lot of choice when it comes to DIY investors shopping around for a new account. To help simplify the comparisons, we evaluated the maximum cash back bonus available at each online brokerage for each deposit tier, meaning that there is now an easy way to view the 'best' deal available for a given deposit tier (see table).
| | | | |
| --- | --- | --- | --- |
| Deposit Amount | Brokerage with Best Offer | Brokerage with Best Offer | Cash Back Amount |
|  $1,000 | Questrade | | $25 |
|  $5,000 | Questrade | | $25 |
|  $10,000 | TD Direct Investing | | $100 |
|  $15,000 | TD Direct Investing | | $100 |
|  $25,000 | CIBC Investor's Edge | TD Direct Investing | $100 |
|  $50,000 | CIBC Investor's Edge | TD Direct Investing | $200 |
|  $100,000 | CIBC Investor's Edge | | $400 |
|  $150,000 | CIBC Investor's Edge | | $400 |
|  $200,000 | BMO InvestorLine | CIBC Investor's Edge | $400 |
|  $250,000 | TD Direct Investing | | $500 |
|  $300,000 | BMO InvestorLine | | $750 |
|  $500,000 | TD Direct Investing | | $1,000 |
|  $ 1M+ | Scotia iTRADE | | $1,200 |
Now before pressing too far forward, it is important to mention that Questrade's cash back bonus offer is only available through their referral key (which can be found on our deals table). Since they have made it easy and accessible to use the referral system to obtain a cash-back bonus, we opted to include them in this list. BMO InvestorLine and Scotia iTRADE also have referral offers which can be stacked on top of an advertised deal so for individuals who are able to secure direct referrals from either BMO InvestorLine or Scotia iTRADE clients, there might be additional bonuses. Accessing these two referral offers does require coordination with existing clients so we've excluded those from calculations for that reason.
One of the first things that jump out about the cash-back bonuses is just how many category leaders are from bank-owned online brokerages. Specifically, 11 of the 13 categories have bank-owned online brokerages offering the top cash back bonus with TD Direct Investing offering the highest (or is tied for offering the highest) cash back bonuses in 6 of the 13 deposit tiers identified. CIBC Investor's Edge is a close second, offering the highest (or tied for offering the highest) in five of the deposit tiers.  Only Questrade's offer of $25 cash back for accounts of between $1,000 and $10,000 stands out as the only non-bank-owned online brokerage to make this list.
It is worth mentioning that the current promotion for CIBC Investor's Edge applies only to TFSA and RRSP accounts, not to cash/margin trading accounts. So, depending on the account type being opened, this promotion may or may not be applicable, in which case TD Direct Investing would have the highest cash back bonuses on deposits up to $200,000 and from $500,000 to $1M. Between $200,000 and $500,000, BMO InvestorLine would have the best cash back offering and above $1M, Scotia iTRADE would have the best deposit bonus.
Noticeably absent (so far) from the promotional offer mix have been RBC Direct Investing and National Bank Direct Brokerage, two firms that historically have posted offers for DIY investors. If they do decide to step in, however, the cash back offer bar has clearly been set by their peers.
Clearly this RSP season, bank-owned online brokerages are dominating the promotional offer matrix with cash-back offers. By leveraging their size, they are squeezing out smaller players in the space such as Credential Direct, Questrade, Qtrade Investor and Virtual Brokers, especially in the segment of investors who have $10,000+.
For the smaller players, it's going to take a combination of innovative offerings, great service, ultra-competitive pricing and some significant marketing investment to compete against the incentives being dropped by the bank-owned online brokerages.
Given the merger of Credential Direct and Qtrade Investor (which itself is owned by Desjardins Online Brokerage) as well as the acquisition of Virtual Brokers by CI Financial, it will be interesting to if these firms start to outspend (or out maneuver) the larger bank-owned online brokerages in promotional offers. For the moment, however, DIY investors will certainly entertain letting the best incentive (i.e. cash) guide their decision.
Outages & Outrage (continued)
First it was fire and fury, then outage and outrage and now, unfortunately, it's still outage and outrage – and also wait and hate.
Frustration set in again for DIY investors as long telephone wait times at several online brokerages this past week drove clients to once again post pictures of hellishly long wait times.
Catching significant heat yet again was Scotia iTRADE, who received messages from frustrated users forced to wait well over an hour (in some cases a combined 8 hours in a week). In digging a little deeper into the reported wait time messages from clients, we noted that wait times started to surge in December (and there were some long wait times reported as far back as November). This is noteworthy only because the messaging around the reasons why DIY investors are waiting (and waiting) provided by Scotia iTRADE reps on Twitter is that high call volume is "unexpected".
Scotia iTRADE wasn't the only online brokerage in the crosshairs of DIY investors this week, however, as BMO InvestorLine suffered a trading platform outage on Tuesday which naturally resulted in a surge of frustrated and angry responses online (see tweets below).
Perhaps the key takeaway from many of the comments is that clients expect more out of a bank-owned online brokerage. There is no distinction between the parent banking brand and the online brokerage arm. So while the banking side of their operations may be functioning well, the service standard has been raised such that expectations around the DIY investing side are now higher.
All of this frustration is not going unnoticed. As we mentioned in the last two roundups, the media is paying attention. This past week a tweet by Rob Carrick inviting DIY investors to share their (horror) stories with the Globe and Mail is again a signal that the Canadian online brokerage space is under a microscope for service delivery, with the bank-owned brokerages getting the bulk of the spotlight.
With the next round of Globe and Mail online brokerage rankings and reviews set to go live, these latest developments will add some interesting colour to the overall assessment of "value" that DIY investors get from choosing between bank-owned online brokerages and the 'independent' online brokers.
Discount Brokerage Tweets of the Week
This week, outages and customer service delays continued to plague DIY investors looking to capitalize on the volatility in the markets. Mentioned this week were BMO InvestorLine, CIBC Investor's Edge, Questrade, RBC Direct Investing, Scotia iTRADE, and TD Direct Investing.
From the Forums
Unhappy people
Just because a bank-owned brokerage has size on their side, doesn't mean there won't be the occasional hiccup. In this market, however, those hiccups get magnified. Going beyond Twitter, this post from RedFlagDeals.com this week shows the ripple effect of BMO InvestorLine's platform outage on client experience. Also, this post provides additional colour on the phone wait times at other online brokerages.
Something borrowed
Before borrowing funds from an online brokerage, it's important to understand exactly how it works and what it costs. This post, from reddit's personal finance Canada thread, walks one Questrade user through the numbers of borrowing from an online brokerage.
Into the Close
Ironically, this edition of the roundup stayed open later than the US government. Not to worry, however, as markets generally shrugged off the closure to power to new highs this week again. All that said, this weekend should be a wacky one on Twitter. Here's hoping there are great highlight reels from NFL playoff games to tune into instead. Have a great weekend!