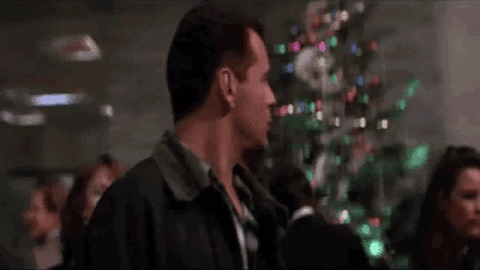 Any fans of Die Hard know that just because it's Christmas time, doesn't mean there isn't room for action to happen. In the online trading space, this also happens to be the case as December has proven itself to be filled with excitement, setting the stage for a very eventful 2018.
In this edition of the roundup, we look at a major merger that took place that will undoubtedly pose a challenge to the big bank-owned online brokerages. Following that story, we continue to cover how cryptocurrency, in particular, bitcoin, trading is making its way into the online brokerage space in the US. As always, we'll close out by looking at what DIY investors were chatting about on Twitter and in the investor forums.
Joining forces: Merger of Qtrade Investor and Credential Direct
The restructuring of the Canadian discount brokerage industry continues to play out in 2017. Earlier this year (in September) Virtual Brokers' parent company, BBS Securities, was acquired by CI Financial Corp, a move that added significant resource to the Virtual Brokers brand. And now, this week, there was yet another major structural development in the Canadian online brokerage space with the announcement that Qtrade Investor and Credential Direct would be combining thanks to a massive merger deal between Qtrade Financial Inc, Credential Financial Inc and NEI Investments.
The combined entity, which will be known as Aviso Wealth, will have more than 500,000 clients and manage about $55 billion in assets. With that kind of size, Aviso Wealth will pose a serious challenge to the bank-owned wealth management space. And, in the online brokerage sector, it effectively provides two small players with the kind of resources needed to compete against much larger and better funded competitors.
One of the major drivers behind this transaction was Desjardins Group, who will be a 50% owner of Aviso Group (Desjardins acquired a minority stake in Qtrade Financial in 2013, eventually taking a majority stake), with the other 50% ownership split between the CUMIS Group Ltd and five provincial credit unions.
On a fun side note, just over 4 years ago I had a sit down with the head of an online brokerage talking about what might happen with the industry. I speculated at the time that a merger between firms aligned with the credit union network would make sense. Fast forward to 2017 and it makes even more sense for online brokerages to consider creative ways to gain efficiencies of scale, in particular those brokerages that are servicing the credit union networks.
As we referenced in the 2017 online brokerage year in review, technology development is on the minds of leadership at all online brokerages. With falling commission prices and DIY investors demanding more technologically advanced features, scale or massive technological advantage seem to be the only ways in which online brokerages can realistically navigate the future of online investing.
For DIY investors, even though there will be 'fewer' online brokerages to choose from, the important difference is that there will now be a brokerage that can operate at significant scale. With scale can hopefully come efficiencies, which in turn, can result in better value for clients.
While the merger is expected to take some time to close (Q1 of 2018 is the target), there are some outstanding issues to resolve from a branding/marketing point of view
For example, Qtrade Investor is very well known for its continuous strong performance on the Globe and Mail online brokerage rankings, as well as in the Surviscor/Moneysense rankings. Changing names or brands at this point might remove them from years of credibility they've earned with online brokerage reviews. Credential Direct, by comparison, is less well known, and it would almost certainly make sense to fold the Credential Direct brand into the Qtrade Investor one. Of course, this is all speculative – an entirely new online brokerage entity could emerge to help bring brand recognition and generate excitement over this new merger.
Another interesting angle is what happens to the smaller discount brokerage players (e.g. Questrade) in a space where competitors are now much bigger?
For almost two decades, Questrade has managed to hold its own alongside other larger financial service providers, but with the latest move by Desjardins, Qtrade Investor and Credential Direct, there seems to be a case for Questrade to consider how they can bulk up to navigate the next chapter in online-based wealth management.
We'll continue to monitor this evolving situation; however, it appears that 2017 was finally the year that the dynamics of the Canadian discount brokerage industry caught up with participants. Whether the larger firms can provide the same service levels at scale that they were able to do as smaller entities is going to be interesting to watch. Larger organizations are notorious for being more complex and thus, slower to respond to changes in the market. Now that Qtrade Investor and Credential Direct are teaming up, they will have to navigate the culture change and manage to strike the right balance between giving clients stability and innovation. Suffice to say, however, they're no longer going to be considered a 'small' online brokerage.
Back to the futures: Interactive Brokers enables bitcoin shorting
Like any good trader knows, don't fight the market. This past week, Interactive Brokers changed its position from bearish to bullish on enabling clients to short bitcoin futures.
Granted, the official position of the CEO and founder of Interactive Brokers, Thomas Peterffy, is that shorting bitcoin futures would be "suicidal" he nonetheless walked back the restriction for anyone brave (or foolish) enough to do so.
For the first week of bitcoin futures trading, however, it looks like Interactive Brokers benefited handsomely, with close to half of the trading volume being processed through IB. With the CME Group set to launch its own bitcoins futures trading next week, it looks like even more opportunities to trade bitcoin are about to open up.
As we mentioned in last week's roundup, Interactive Brokers won't be the only online brokerage in the arena as TD Ameritrade will also enable clients to trade bitcoin futures. For TD Ameritrade clients, the minimum account balance to trade bitcoin futures is $25,000, with margin requirements for trading through TD Ameritrade set at 44%. Margin requirements at Interactive Brokers are also steep. Outright margin for long positions set at 50% of the prior day's lead month settlement price and short-sellers required to put up an eye-watering five times the value of their futures contract.
With all of the hype surrounding the increase in value of cryptocurrency, a recent post from the Ontario Securities Commission's Get Smarter About Money site seems timely. Interestingly – but perhaps not surprisingly – in a recent poll they found that 29% of males aged 18-34 had some exposure to cryptocurrency. This is reminiscent of the stock day trading that took place during the dot-com bubble when a lot of young trading 'geniuses' were created.
For DIY investors, the rise in bitcoin and other cryptocurrencies has already prompted requests for Canadian online brokerages to start enabling trading of these instruments. Which Canadian online brokerage will be 'first' to allow trading in bitcoin/cryptocurrency? It's difficult to say, however the lessons from what's happening in the US are going to be instrumental in making the case for trading here in Canada.
Discount Brokerage Tweets of the Week
Mentioned by Canadian DIY investors were BMO Investorline, Credential Direct, CIBC Investor's Edge, Questrade, RBC Direct Investing, Scotia iTRADE, and TD Direct Investing.
From the Forums
Beyond the limit
Transferring from one online brokerage to another should be a straight forward process – at least in theory. In practice, this post from reddit's Personal Finance Canada section, shows how transferring a TFSA account left a negative balance in place and a whole lot of questions. It's a good read for those considering making a change.
Leftovers
What happens when your balance is too low to trade but still high enough to incur a fee? One user encountered this situation with a low balance in their RSP investing account in this post on reddit's Personal Finance Canada thread. Find out what (mostly) helpful suggestions were put forward by other readers.
Into the Close
That's it for another week of action. With markets continuing to push higher and cryptocurrency doing the same, it's safe to say the only red this Christmas season will be coming from those who are trying to short either of these. Have a great weekend and best of luck fighting the crowds for the last few shopping days before Christmas!