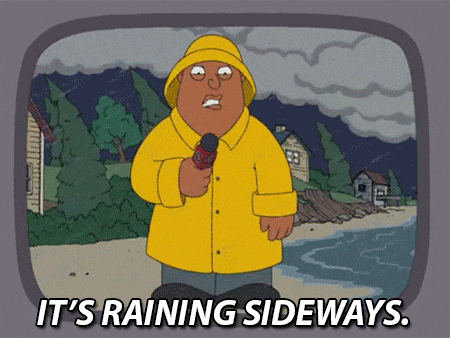 Between natural disasters or man-made ones, this short week has felt much longer than even a regular one.  Of course, there's still lots of important action to stay on top of, which is something all DIY investors (especially the more active among us) quickly learn is a reality of life in the markets.  This past week there were more than a few market moving announcements – from interest rates hikes to new settlement dates which traders had to maneuver around.
This week's roundup looks at some market moving news of a new entrant to the Canadian online brokerage space and what that will mean for competitors and DIY investors alike. Next, we do a quick recap of several small developments including the kick-off to a popular investor conference as well as a stock market contest for students that aims to raise awareness for a great cause. As always, we'll review what DIY investors had to say about Canadian discount brokerages and trading in general on Twitter and in the DIY investor forums.
Virtual Brokers acquired by CI Financial Corp.
It was bound to happen sometime. With pressures on commission pricing and a modest market-size, competing and succeeding in the Canadian online brokerage space in 2017 and beyond requires the scale to withstand commission price declines while monetizing clients through a variety of channels.
Perhaps that was among the factors that led to the major news this past week that wealth management firm CI Financial Corporation announced that it is acquiring BBS Securities, parent to Canadian discount brokerage Virtual Brokers. CI Financial Corporation is one of Canada's largest independent investment fund companies, and though the terms of the transactions were not released, the safe bet is that Virtual Brokers just leveled up in terms of competitive ability.
According to reporting in the Globe and Mail,  "there are no plans to change any of the current funds offerings or trading fees" at Virtual Brokers, so for the moment clients can rest easy as the deal makes its way through regulatory approvals. Nonetheless, National Bank Direct Brokerage's move to drop commissions on ETF buying and selling might still mean a shakeup of Virtual Brokers' pricing is in the cards not too long from now, especially since CI Financial owns ETF provider First Asset.
Competitors to Virtual Brokers, including both the bank-owned brokerages and independent online brokerages, likely need to revisit their game plans now that Virtual Brokers is owned by a company with over $120B assets under management and that has a market cap of $7B. CI Financial is no small fry when it comes to the wealth management footprint in Canada and so the combination of the advisor network alongside substantially greater resources means that Virtual Brokers has discounted access to hundreds of thousands of customers who might also be interested in doing some DIY investing alongside their managed wealth.
For Virtual Brokers, the acquisition means that there are now some serious resources at their disposal.
As part of their news release, founder, CEO and president of BBS Securities, Bardya Ziaian, mentioned "Our firm will benefit from the financial strength and stability of CI, which will support investments in technology, product development and service." For CI Financial, there is clearly an interest in the financial technology developed by BBS Securities and preparing for the technology arms race that has come to define the wealth management space in general.
Since CI Financial Corp (a publicly traded company) owns Virtual Brokers, it will be interesting to monitor the extent to which online brokerage contributes to the earnings and bottom line. For Canadian DIY investors, there is a strong possibility that Virtual Brokers may once again be able to aggressively revise their commission structure or add in value drivers for their clients that bank-owned brokerages may not be able to match. Either way, this translates into more mileage for the DIY investor dollar, which is always a good thing.
With the ramp up to the 'busy' season starting soon, it will be very interesting to see how Canada's discount brokerages respond. One thing is for certain, however, the newest player on the field will likely force that response to happen sooner rather than later.
Quick highlights
Toronto Moneyshow kicks off
What is arguably one of the largest investment shows in Canada is underway on September 8th and 9th in Toronto, with several Canadian online brokerages in attendance. We took a peek at the social media displays to see what kind of activity was taking place at the event with some snapshots of the action compiled below. Among the online brokerages in attendance are BMO Wealth Management (BMO InvestorLine), CIBC Investor's Edge, Interactive Brokers and National Bank Direct Brokerage. Check out the @MoneyShows twitter feed for more updates and action from the show floor. (In case the tweets from the show are not loading, they can be accessed here.)
CIBC Investor's Edge trades for a cause
Canadian bank-owned online brokerage CIBC Investor's Edge was announced this week as the presenting sponsor in the virtual stock market challenge, the Capitalize for Kids Student Challenge, organized by Capitalize for Kids. Along with market platform company IRESS, who is supplying the software and market data used in the simulation, these firms are helping to raise awareness and funds for Kids Help Phone. Also, funds raised up to $75,000 will be matched thanks to a grant from Brain Canada.
The competition is open to any student at the age of majority who in enrolled in high school or a post-secondary institution for any amount of time between September 1st 2017 and December 31st 2017. Note that the deadline to register for the competition is September 30th.  The challenge itself takes place from October 2nd to December 31st
Top prizes in the competition consist of a combination of a cash credit in a CIBC Investor's Edge account as well as a lunch or skype session with a CIBC Executive. Top prize in the competition is $2,000 cash credit in a CIBC Investor's Edge account while second place nets $1,000 and third place $500, both of which are cash credits in a CIBC Investor's Edge account. In addition to cash prizes, entrants may also have their written analysis of their portfolios evaluated and have their resumes screened by a number of well-known financial firms.
Full details on the competition are available at the Capitalize for Kids website. Also, check out the video below for more information on the competition.

Discount Brokerage Tweets of the Week
Despite the shortened week, there was still plenty of action on Twitter. Mentioned by Canadian DIY investors were Questrade, RBC Direct Investing, Scotia iTRADE, TD Direct Investing and Virtual Brokers.
From the Forums
Importer Exporter
One of the realities of DIY investing is tracking trades in a spreadsheet. In this post from reddit's Personal Finance Canada section, one user was looking for an easy way to export trading data from Questrade into a spreadsheet program. Fortunately, folks from Questrade provided a couple of tips to make it a snap.
Exchanging Ideas
Figuring out how to save on foreign exchange fees between Canadian and US currencies at CIBC Investor's Edge sparked an interested discussion in this post in Canadian Money Forum. Worth a read for those looking for recent pricing on Norbert's Gambit costs at this online brokerage.
Into the Close
Never a dull Friday. Our thoughts are going out to all of the folks impacted by hurricane's Irma and Harvey and we're hoping everyone can weather the storms safely. There's no shortage of news to keep eyes glued to screens this weekend – from weather to scandal to sports, most of which will have markets chattering on Monday. Have a safe long weekend and rest up if you can, the next week looks to be a particularly busy one.