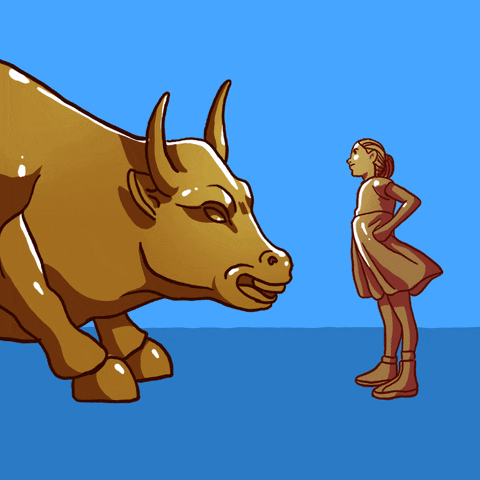 March is here in full force. Even though the RSP contribution deadline for 2020 is now behind us, there is no shortage of activity taking place this month on the digital front. From Fraud Prevention Month to International Women's Day to rising oil prices to NFTs to a bombshell interview from Oprah, there is a lot to tune in to. And one more thing: There's still a global pandemic.
This edition of the Weekly Roundup leans into the convoluted but interconnected web of signals to pull out two fascinating stories on the online brokerage space in Canada. The first story looks at the deals and promotions for March but dives deep to provide context on the current state of deals activity against a new competitive landscape. And, speaking of competition, Canadian online brokerages that might not be concerned about a new entrant showing up any time soon may want to rethink that position as we profile the long and winding journey of one US online brokerage that is poised to make a move north of the wall. Of course, what would a Roundup be without comments and perspectives from DIY investors? Be sure to check out some thought-provoking conversations taking place in the forums and on Twitter.
Online Brokerage Deals & Promotions Update
It's official. The 2020 RRSP season is officially over, and while the huge rush to ensure that money moves to the appropriate place by the contribution deadline has ended, the data analysis on the campaigns deployed by Canadian online brokerages is now in full swing.
Normally, the start of a new month is accompanied by a deals update that follows a standard format of recapping the latest deals and promotions offered by Canadian online brokerages, as well as discussing what deals are new and which ones have expired.
Contextually, however, 2021 is still very much an anomalous year when it comes to DIY investing and especially online brokerage promotions.
One of the most important insights to emerge over the past year at Canadian online brokerages is that there can actually be too much of a good thing. Normally, promotions and deals are used by online brokers to incentivize DIY investors – new and experienced alike – to consider choosing a particular brokerage.
Last year, however, we saw numerous online brokerages, especially around March and April, pull back or withdraw their offers altogether. It was the first time we had witnessed that happening in at least five to six years. The reason: Demand for online accounts was simply too high, and Canadian online brokerages were overwhelmed and opportunistic. If people were willing to pay (and also to wait), a promo probably wasn't required to get them to sign up.
The dry spell in deals started to clear toward the tail end of 2020. At that point, we started to see a more normal course of activity, with multiple large Canadian online brokerages offering up cash-back promotions as part of their lead-up to RSP season. And then January 2021 happened.
Recall that it was just over a month ago that yet another surge of online investors poured into the world of DIY investing and trading, this time fueled by trading communities like Wall Street Bets and social media channels feeding a frenzy of momentum trading.
Data we reported on in the previous Weekly Roundup about Interactive Brokers, for example, showed that January 2021 resulted in a 221% month over month increase in new accounts and an almost 700% increase over the same period last year. The latest metrics released by Interactive Brokers from February revealed that almost 76,000 new accounts were opened during the month. While significantly lower (-35%) compared to January in terms of net new accounts opened, when compared to the same point last year, the number of accounts opened in February is over 400% higher.
In the Canadian marketplace, data from financial services research firm Investor Economics also shows that over 2 million online brokerage accounts were opened in 2020, up from just shy of 850,000 in 2019. It is thus not hard to triangulate that, for the beginning of 2021, and in particular RSP season, Canadian online brokerages have had another exceptional year in terms of volume of interest.
This backdrop is important when looking at the current slate of deals and promotions offered by Canadian online brokerages, especially with a view toward whether or not more promotional offers can be expected to show up in the near- to intermediate-term. Having deals from large providers such as TD Direct Investing, Scotia iTRADE, CIBC Investor's Edge, and Qtrade Investor expire at the same time is enough to cast some doubts on what happens for the next few months.
The short answer is that it does seem like Canadian online brokerages are willing to deploy promotional offers between now and the kickoff to next RRSP season, which generally happens at the beginning of November. For anyone keeping score, that is about six months away. Here's why we think that's the case.
First, there's the inevitable restart of the economy through the summer. While folks have been working from home, it has probably been a lot easier and less noticeable to nosey coworkers to have a trading window open or be trading online or watching stocks on your phone. When offices start reopening and individuals begin going to the office again – as will happen – the mechanics of being able to trade from work are going to become harder. That bodes well for deals and promotions since a more "normal" cadence of activity is likely to require online brokers to work harder to get individuals to pay attention to investing while those individuals go back to juggling life as usual.
Another reason we're bullish on deals and promotions heading into the stretch between now and the start of November is that there is increased competition for incumbent Canadian online brokerages – especially from Wealthsimple Trade but also from potential new entrants looking to make a splash in the Canadian market (see next story below).
For anyone who's spent any time on YouTube, Wealthsimple Trade's barrage of advertising should be a clue that they're heavily investing in spending big money to get attention. Wealthsimple Trade's commission structure alone should garner them attention, but it was still fascinating to see them start to launch promotional offers at the tail end of 2020 as well as some even bigger promotions linked to referral offers mid-February 2021.
Larger or more well-known Canadian online brokerages may have a buffer against this advertising and promotional onslaught, but outside of three to four online brokerages in Canada, the rest of the field has to reevaluate a lot about how, when, and where they show up to Canadian DIY investors.
One viable option for online brokerages to compete is through offering deals and promotions on an ongoing basis, with different offers available at different points in the year. Another option is better marketing around offers that are already available – with a case in point being Scotia iTRADE. They have a promotion for commission-free trades that is bundled with a premium banking package offered by their parent brand, Scotiabank. Despite having traction with value-hungry consumers, this offer is relatively under-advertised to the general public.
On the good news front for DIY investors, there are still online brokerages offering deals and incentives for investors looking to get into the markets or who are interested in a new service provider.
Promotional offers from RBC Direct Investing – a major bank-owned online brokerage – are still available through the end of March, and BMO InvestorLine also launched a new cash-back offer to replace their RSP campaign. In the case of BMO InvestorLine, the minimum deposit amount on their new cash-back offer was raised to $25,000 and expires on June 1st, 2021.
Also, as stated earlier, it is bullish that a firm that currently has zero-commission trading is offering promotions on top of their ultra-competitive pricing. And considering Wealthsimple Trade's aggressive marketing, it is unlikely that their competitors can afford to stay quiet for much longer.
Whether it is because of elevated trading activity, the dynamic nature of the restart of return to work, or the new competitive landscape for online brokerages in Canada, we believe that more Canadian online brokerages than normal will turn to promotional offers as a fast, effective way to stay relevant to DIY investors.
What the data from 2020 and early 2021 have shown is that large pools of DIY investors can quickly rush to market to get on board with a trading opportunity. Online brokerages looking to get ahead of the next big push, as well as to get in front of the big return-to-work shift, will likely be considering deals and promotions as a tactical way to be visible throughout these next few months. The takeaway: Investors who haven't already joined the market can anticipate some interesting offers without having to wait until the fall to take advantage of them.
A Taste of Something Different: Signals Point to 2021 Arrival of Tastyworks in Canada
It started out, at least for me, in the Las Vegas airport on a journey back to Canada in 2014. I stared up at the TV in the departure lounge and saw a strange cherry logo alongside messages about online trading. It all seemed very Vegas, but the name tastytrade was something I made a mental note to remember.
Little did I know at the time that the combination of curious name and logo would potentially become one of the bigger stories in the Canadian online brokerage space in 2021.
What Is Tastytrade?
Back in 2014 and 2015, it was difficult to answer exactly what this firm was all about. After doing a little bit of research on tastytrade, it became clear that this brand was something different in the online investing space.
Launched in 2011, it was all about providing content on investing, with a heavy focus on options trading, mixed in with some fun and insightful segments. One thing it wasn't short on was opinion and debate. But, they were American, and being in Canada meant that aside from an alternative to programming on CNBC or BNN, the talking heads on tastytrade probably wouldn't have a direct influence on life here in Canada. At best, it seemed like a fun channel to tune in to for trading banter.
The next time tastytrade came back on my radar was October 2015. Back then, my hair, like the Weekly Roundup, was shorter, and the big news of the day was that TD Direct Investing had just "officially" joined Twitter. And, for good measure, one of TD Direct Investing's early tweets: tastytrade would be coming to Canada for the first time on October 26th as a guest of TD Direct Investing.
Guess who's coming to Canada for the 1st time? @tastytrade RSVP before all the seats are gone http://t.co/4XxXuJXLcV pic.twitter.com/EliW1VczeI

— TD Direct Investing (@TD_DirectInvest) October 6, 2015
I was fortunate enough to attend that first session at the CBC studios in downtown Toronto. In the before times, when travel and live events were a thing, investor education was also something Canadian online brokerages invested in far more heavily than they do today. Calendars on online brokerage websites were crammed with investor education events – which, at the time, is what this seemed like it would be.
Little did anyone know at the time how big of a deal it would be that the largest online brokerage in Canada was bringing a new financial brand north of the wall.
Thanks to @TD_DirectInvest & the @tastytrade team for a great live event! Looking fwd to the next one! pic.twitter.com/CXTUI5sA99

— Sparx Trading (@SparxTrading) October 26, 2015
The session itself lasted the better part of a day. While spending a good portion of a day at an investor education event geared toward options was something I had done before (a couple of times), it was clear from the get-go this event was different.
First, it was impressive that instead of an education session, it felt more like a rock concert. There was fancy sushi (no boring sandwiches here), and the auditorium was filled with a community of fans who came to see and hear the founder of tastytrade, Tom Sosnoff, do his thing live. The energy in the room was unique. It could have been, in part, because attendees were actually part of the live broadcast of the tastytrade show. They could see that the personalities they tuned in to for options trading and market chatter were the same in person as they were behind the screen: funny, chill, and very smart.
While the actual segments of the shows were interesting, the most interesting thing to observe and experience was what happened during breaks.
Sosnoff was approached and literally encircled by a flock of adoring fans peppering him with questions about trades and options. He was able to engage an audience with a topic that most people – even back then – found opaque and mysterious. Again, this was Canada and it was 2015. No big rush to Robinhood, no GameStonks, no Reddit army. Whatever the following and fan base here, it was likely significantly higher in the US.
For TD Direct Investing, at the time, it was a big score to have tastytrade come to Canada. This event was a huge deal for their active options trading audience and, as it turns out, for their associates who ran the thinkorswim platform. Fun fact: Sosnoff created thinkorswim and sold it to TD Ameritrade in 2009 for US$750 million.
The next few years for tastytrade were spent continuing to grow and engage with their audience across the globe and launching their own online brokerage, tastyworks, in 2017. In the US online brokerage market at or about that same time, Robinhood was starting to make more waves among online investors. Not too long after the launch of tastyworks did we start to see comments left by DIY investors on SparxTrading.com that the best pricing for options trading was being provided by tastyworks.
In a very short period of time, the tastytrade and tastyworks brands established themselves as a powerful force for active traders and investors who want to get the full experience of trading online, offering a unique community and great trading tools and user experience.
In a Weekly Roundup from February 2019, we spotted tastyworks' rise in the US online brokerage rankings, where they appeared to be gaining ground on traditional online brokerage names in the space. Again, this was just two years after the tastyworks launch. The following interview from the Moneyshow in Toronto was also telling of the footprint tastytrade had developed in Canada by that time.
It wasn't until 2020, however, that chatter around tastyworks coming to Canada started to pick up steam. To be clear, prior to 2020 the tastyworks team mentioned publicly that they intended to come to Canada. Unfortunately, regulatory and technology hurdles made coming here much slower.
Despite several suggestions in the past that didn't quite work out, things seem different this time. The series of signals that the arrival of tastyworks in Canada is imminent seems to be growing. If we rewind back to January 2020, a tweet from the current Co-CEO and President of tastyworks, Kristi Ross, about the online brokerage coming to Canada was the first strong indicator big things were coming:
Then, in June, another interesting update, again from Twitter:
Hmmm, I like it!! Although we do have a team working on TW Canada 🇨🇦…just sayin'…I know I've put out dates before, but Q4 2020…possibly a late holiday gift 🎁!

— Kristi Ross (@KristiRossX) June 11, 2020
Then, in September, on Twitter:
The short answer is yes and TW Canada does expect to offer RRSPs and TFSAs on day one.

— Kristi Ross (@KristiRossX) September 29, 2020
We were primed to see a new online brokerage set up shop in the Canadian market before the end of the year, but it did not end up happening. As it turns out, though, the tastyworks folks were also busy with some big news of their own.
Tastyworks announced at the beginning of 2021 that they were being acquired for $1 billion by IG Group Holdings.
After about a decade, Tom Sosnoff had done it again, turning an idea about trading options and building a community of users into a multimillion-dollar payout. According to the press release, the management of the tastyworks brand was to continue on, but it did raise some questions about whether or not a move to Canada was still in the cards. That question, however, was put to rest in a video in early February:
Although the video clearly signals tastyworks' own acknowledgement of yet another delay, this article from The Globe and Mail about tastyworks coming to Canada was published last week, lending more weight to the idea of tastytrade's Canadian launch actually happening this year. One of the biggest questions will be "What is tastyworks?" and, in all likelihood, this article is but one of many to come that will seek to answer that question as the tastyworks and tastytrade advertising machinery ramps up.
The journey to Canada for tastyworks has been a long and winding road.
Since their first hints in 2018 of coming to Canada, the online brokerage landscapes in both Canada and the US have changed significantly, with the biggest change being the shift in commission pricing. As we've seen over the early part of 2021, however, just because a platform offers a great user experience and low pricing does not guarantee customer delight. There has to be something deeper.
For online investors, especially active ones, community is huge, and Sosnoff is well aware of this. Tastytrade is a financial content powerhouse, boasting an audience in Canada of 10,000 daily viewers and a global audience of about 900,000. These aren't just passive viewers, however. Scan comments and forums relating to options trading and pricing conversations and tastytrade comes up a lot – and with a lot of (generally) positive emotion. It has a loyal fan base and a vibrant community.
For Canadian online brokerages, the move north by tastyworks will be an inflection point for the standard of online investor experience. Tastytrade content is engaging, entertaining, and educational. There are 20 shows that take place on the network. There is fresh content every day, and you can watch the founder and other members of his team trade throughout the day. They don't just talk about this stuff, they actually do it. Add to that the price for trading stocks and options that tastyworks will bring, and the picture forming is that most Canadian online brokerages are staring at a potential game-changer coming soon.
The irony of the tastytrade and tastyworks journey coming to this point in 2021 is not lost on me.
When, seven years after the fact, an online brokerage can get you to remember the first time you ever saw their name (let alone on a return trip from Vegas), that says something about the power of the brand. The fact that TD Direct Investing set in motion the chain of events that led to tastyworks coming to Canada, and that I have been able to watch it unfold, is amazing.
Also pretty cool is seeing that having a penchant for disruption, a passion for giving online investors great experiences, and keeping your hair long can end up working out after all.
Discount Brokerage Tweets of the Week
Discount Brokerage Tweets – Curated tweets by SparxTrading
From the Forums
Hitting Rock Bottom
In this post, a 40-something investor with a wife and children asks for advice on how to rebuild after a financial catastrophe – that he brought upon his family through a series of bad bets on leveraged ETFs. Hundreds of Redditors offer words of encouragement and advice on everything from investing in simple ETFs to being grateful for family during tough times.
Risky Business?
A new investor with a lot of money to invest for 20+ years asks in this post how risky an ETF is and wants to know if a HISA or GIC would be a better choice. Redditors have strong opinions on the matter.
Into the Close
That's a wrap on another edition of the Roundup. As alluded to in the opening, there's a lot happening this month, and the Oprah interview is just the tip of the iceberg. We're still tuning up the new features on the SparxTrading.com website and are looking forward to upcoming enhancements. While we might not get Oprah as a guest contributor (just yet), we are looking forward to including more interviews with interesting folks in the near future. In the meantime, we want to wish our readers tuning in today (Monday) a happy International Women's Day and a profitable week ahead!