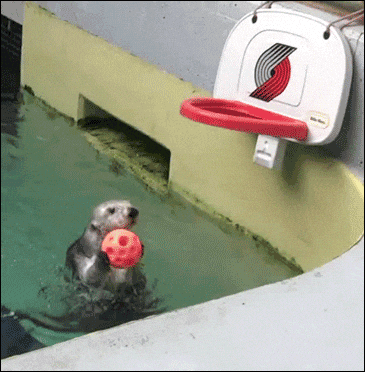 If there's one place in Canada that should be prepared to handle the rain, it's Vancouver. And yet, even on the We(s)t Coast, this past week has shown that sometimes, when it rains, it really does pour. As it turns out, if you're an otter, however, Vancouver is shaping up to be a pretty sweet place to hang out. CFO's of major Chinese telecom companies, however, not so much. Like this past week in Vancouver, there has been a torrential downpour of information across the online investing world and it looks like there's even more coming.
So, even though we can't boil the ocean, in this edition of the roundup we nonetheless wanted to provide a solid run down of what crossed our radar this week, sprinkle in some analysis and for the faithful readers of the roundup, provide an exclusive preview of the look back/look ahead piece. As usual, there's also an interesting selection of DIY investor tweets and forum posts to round things out.
Virtual Brokers Drops Commission Prices
There's no question that things are busy across the online brokerage space heading into the end of the year. In the midst of all that flurry, however, there was a very important change that took place at Virtual Brokers at the close of market on Thursday (December 13th) and the start of trading on Friday, rain wasn't the only thing coming down, commission prices did also. Namely, the commission structure for Virtual Brokers has now changed to as low as $1.99 commission per trade (technically per ticket – more on that in a moment).
That's right Virtual Brokers now offers one of the lowest (until Wealthsimple Trade goes fully live to the general public) trading commissions for equities and options trading. The new pricing structure is $0.01 per share with a minimum charge of $1.99 per ticket up to a maximum commission charge of $7.99 per ticket. For active traders, defined as those who made 150 or more trades in the past quarter, the price changes to $3.99 flat per ticket
While it does benefit passive or minimally active traders, this is a huge development for very active traders. To understand why, it's important to know the difference between "trades" and "tickets."
A ticket refers to a collection of trades on the same side (either buy or sell) on the same day for the same stock. An example can help clarify.
Let's say trader of TSLA purchases 3 separate orders of 200 shares a piece of the stock at multiple points in the day. Those 3 trades amount to 600 shares. Assuming they were all routed through the same market, those 3 trades would be on the same ticket because they're the same stock, same direction, same day. At $0.01 per share x 600 shares, that's $6.00 in commission charges. If on that same day a trader wanted to then sell 100 shares, that would be 1 trade which would also be one ticket at the $0.01 per share – which works out to $1.00 however the minimum commission charge is $1.99 so the final commission charge would be $1.99.
Unlike almost all other online brokerages (with the exception of Jitneytrade for example), using tickets instead of trades means that clients have to do a bit more math to truly understand the commission costs.
That said, if there's one thing active or day traders are not afraid of, it's a little order tracking, especially for a flat fee of trading that could be as low as $3.99 for an unlimited number of shares. In fact, for ETF swing traders the math is even more compelling – purchases of ETFs are free at Virtual Brokers so long as they are held for a minimum of one business day, which means anyone who is on the standard plan would only pay a max of $7.99 for a round trip on an ETF trade (assuming all units were sold same day). For passive rebalancing – especially for smaller accounts, this is also a great score as selling 200 shares of an ETF costs $2.00 in commission charges.
Clearly, in the commission price pool, Virtual Brokers has just made a massive splash.
Unlike lesser known online brokerages, Virtual Brokers has the benefit of having been featured in the Globe and Mail's online brokerage rankings, including having achieved top online brokerage or a high finish for several years in a row.
Although prior to this move Virtual Brokers' popularity was waning, they are certain to get the attention of investors of all stripes – but especially the active ones – who will now likely take a serious look at an online trading account with a provider that has professional grade platforms and the pricing to match.
It will only be a matter of time until word spreads among investors and if/when Virtual Brokers decides to advertise this widely – other brokers will be racing to figure out how to catch up.
Back to the Future: A Preview of the Look Back on 2018 & Look Ahead to 2019
From outages & outrage in early 2018, online account opening landing at TD Direct Investing, new website roll outs at BMO InvestorLine, Questrade and National Bank Direct Brokerage, and so many interesting promotions and deals, there was a lot that took place at Canada's discount brokerages this past year.
We could go on (and on) about these developments (which we will next week!) but for the moment, we're excited to hand over the spotlight to Canada's online brokerages themselves to see what they had to say about 2018 and what they're doing next in 2019.
Readers of the roundup will get a first look at this amazing edition of the Look Back/Look Ahead. Why is it so amazing? Without being too biased, firstly it offers a unique window into hearing from Canadian online brokerages themselves, in many cases directly from the leaders of the organizations that Canadian DIY investors entrust their business to. It helps to know and understand the vision these organizations have for building online brokerages that are suited for today's world as well as tomorrow's.
Second, this is a chance to spot interesting trends in the year that past as well as in what is coming around the corner at many online brokers. With RRSP season about to ramp up, consumers will be very hungry for information that helps them better understand the decision to work with a particular online brokerage. While there are rankings or ratings, those are generally focused on past performance. The look ahead component this year offers a fascinating window into what 2019 is going bring for DIY investors in terms of new features, technology enhancements, pricing (potentially) and more.
Finally, this particular edition has exclusive information on how the landscape of online brokerages will have another competitor to contend with this year. That's right, one of the biggest stories in this year's series is the upcoming launch of a 'dark horse' competitor. It's not Wealthsimple Trade – who's commission-free trading is certainly going to make waves, but rather an existing online brokerage who has some very ambitious plans. Who is this mystery online brokerage? Tune into Sparx next week to find out!
To provide some more intrigue, here is the list of online brokerages who we received submissions from and who will be featured in this upcoming year in review & preview to next year piece:
BMO InvestorLine
HSBC InvestDirect
National Bank Direct Brokerage
Questrade
Also new for readers this year will be a digital magazine format that provides another way to experience this informative and unique piece. Here's a preview of the cover art:
This format is the first from SparxTrading and is also a reflection of our growing team and focus on delivering great DIY-investor information about Canadian online brokerages.
Since you've read this far here are some early teasers from three firms covered in the look back on 2018 & look ahead pieces for 2019:
CIBC Investor's Edge: Invested in online education content, young investors and trading platforms in 2018; for next year (and beyond) enhanced trading & reporting features
Qtrade Investor: Listening to clients helped drive improvements in service & support, financial planning tools and access to premium market research; coming up, big technology enhancements including mobile improvements
National Bank Direct Brokerage: Enhancements to the website, promotional offers and special educational events provided improved user experience; coming in the new year are new trading features and improved online account opening experiences.
Stay tuned!
Lightning Roundup
Here are some interesting online brokerage stories that crossed our radar this week.
Robinhood Online Brokerage Launches Banking Feature
The US-based zero-commission online brokerage continues to make waves in the online investing and financial services space. This week they took a literal swipe at the banking industry by launching checking & savings accounts that pay 3% interest to users. That, according to CNBC, is more than 30x the national average. Check out this interesting interview that has an ironic moment talking about technical glitches.
CI Financial Acquires Wealthbar
After acquiring BBS Securities, parent of Virtual Brokers, CI Financial is again going shopping just ahead of the holidays with an acquisition of Vancouver-based robo-advisor Wealthbar. This acquisition provides an interesting spectrum of services for CI Financial as they will now be equipped to provide direct online investing as well as digital advisor services.
Scotia iTRADE Movie Deal
With more foot traffic passing through downtown Toronto's underground PATH, it was an opportune time for Scotia iTRADE to launch a short promotion for 2000 SCENE points for a deposit of $5,000. We've spotted ice cream in the summer, popcorn in the fall and now hot drinks with winter around the corner.
Questrade Spreading Holiday Cheer
We'll end the lightning round with a feel-good move by Questrade. Spotted on their Twitter feed this week was a message stating that Questrade will donate a meal to the Daily Bread Food Bank for every retweet the message gets until the end of December. In addition, Questrade has also committed to providing a day's worth of meals for every account opened with them in 2019. This is a great example of corporate social responsibility in action and gives DIY investors who open an account with Questrade something extra to feel good about while they're doing it.
Discount Brokerage Tweets of the Week
Discount
Brokerage Tweets – Curated tweets by SparxTrading
From the Forums
Questwealth Query
One user took to the Personal Finance Canada forum on reddit this week with a question on growth portfolios for their RRSP. With the user considering a switch to Questwealth, read what helpful advice was given on how to dissect some "complicated" portfolios.
Checking in on Wealthsimple
Robinhood's recent announcement of checking and savings accounts with 3% earnings and no fees, led the discussion on to whether Wealthsimple Trade, the commission-free trading Canadian analogue, would also follow suit as their "next logical step". Read more in this thread from Personal Finance Canada forum.
Into the Close
That's another rocky week in the bag for the bulls. Ironically the Christmas colours of red and green are flashing red as major support levels are being challenged. Of course, it's all a matter of perspective at this point as bargain hunters continue to get more and more excited for interesting entry points. Speaking of interesting entry points, if you're out holiday shopping in the malls, may the parking gods be forever in your favour! Have a great weekend!