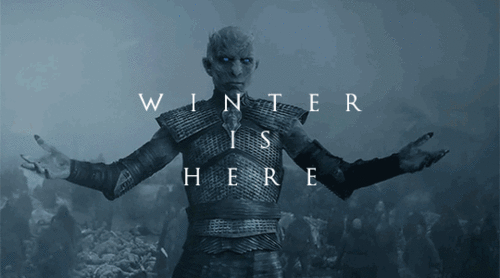 With storm clouds thicker than this week's 420 protests-turned-celebrations and tension greater than the imminent showdown coming in the next installment of Game of Thrones, it seems the fog of war has set in with online brokerages. On the home front, things are nervously quiet, however from the revelations this past week in the US, the battle of the brokerages south of the border is raging.
In this week's roundup, we extend our coverage of the latest performance of the major online brokerages in the US to glean where the industry there (and eventually here in Canada) is headed next. From there we'll update the latest move from one independent brokerage that suggests a shift in strategy that other brokerages have yet to respond to. As always, we'll scan the latest chatter from investors on social media and investor forums and also highlight some of the upcoming investor education events.
Quest for the Best
Last week we reported on the latest earnings from Schwab. This week saw earnings releases from the three other major publicly traded online brokerages in the US: E*trade, Interactive Brokers and TD Ameritrade.
Collectively, these four brokerages earned just under $2.5B (USD) in revenues and $1B USD in net income for the quarter. Overall, each of the firms posted relatively strong performances in the quarter, attracting new accounts, in some cases breaking records for earnings and trading activity.
Aside from these mind-boggling numbers (especially when compared to Canadian online brokerages) the real story is revealed by reviewing what gets said on the earnings call which feature commentary from senior executives (often CEOs and CFOs) as well as questions from analysts that cover these companies.
One of the biggest themes from this last set of earnings calls had some very real concerns about the impact of the latest investor protection measures (the "Fiduciary Rule") being implemented in the US.
While the mammoth (apparently 1000 page long rule) being put forward by the US Department of Labor (DOL) impacts retirement accounts specifically and what it means to be considered a 'fiduciary' the online brokerages are still digesting exactly what the requirements and costs to meet those requirements will be. Ironically talking about the sheer volume of added paperwork this rule has generated and will generate on Earth Day underscores the unintended consequences of well-meaning regulation.
This push towards greater investor protection, especially within the 'advice-based' or managed wealth realm is not unlike the CRM2 regulations being phased in here in Canada. The goals of achieving greater transparency on fees charged for services and for improving the disclosure from financial advisors are aligned in both cases, although it appears the Canadian approach is less onerous.
While the DOL rule and CRM2 may make it more challenging for some advisors to convince investors to park their money in the 'managed' space, this move actually may play out in favour of the self-directed account providers. The thinking is that when investors see what they are being charged for their funds or for the advice they're being provided, they're likely to consider alternatives.
In addition to the self-directed route, one of those alternatives happens to be robo-advisors – a seemingly middle ground solution between the 'human' advice world and the DIY investor option.
Interestingly, after the DOL Fiduciary Rule concerns, robo-advisors and fintech appeared to be the 'next big thing' on the minds of analysts and executives. Specifically, all the brokerages were asked about robo-advisors and the extent to which they are either gaining traction (such as at Schwab which has pulled in $6B in assets within a year) or are not (such as with Interactive Brokers).  That said, there is a definite recognition of the importance of fintech.
One of the more interesting remarks came from the CEO of E*trade Paul Thomas Idzik who stated that they're clearly interested in expanding the banking functions that a fintech solution could provide to their business. In other words, even though they're an online brokerage, they're looking to expand their financial services into what banks have traditionally done (such as bill payment and transaction processing).
The award for most interesting commentary, however, had to come from Thomas Peterffy, CEO of Interactive Brokers.
In response to a question from analyst Mac Sykes of Gabelli about the strategic direction of Interactive Brokers, Peterffy stated "Mac, I'm obsessed with trying to grow this to become the largest brokerage in the world. That's the only thing I care about. I don't care about the returns."
Not only does this comment perfectly capture the intensely competitive nature of the online brokerage space within the US but it also shows Canadian brokerages that there are those in the space that have the capital and motivation to outperform those who don't want to win badly enough.
Virtual Brokers Uptick
On this side of the border, the action is a bit sleepier. Nonetheless, this past week Virtual Brokers launched yet another promotion signaling their shift towards offering prospective clients more incentives and promotions than they have previously.
The latest promo from VB is actually a contest for a $500 Apple gift card (a promotion they've run previously) for individuals depositing at least $1,000 into a new Virtual Brokers account. Unlike many of the other promotions currently offered by Canadian discount brokerages, the 'contest' route doesn't offer an immediate reward but it does offer those with low starting balances the possibility of getting another perk for signing up.  For the brokerages, however, this is a lower cost way of trying to attract new clients and/or leads for those who enter the contest.
While promotional activity at several other brokerages has geared down, it appears that Virtual Brokers (either by design or coincidence) is starting to ramp up their promotional strategy.
For VB the timing gives them an edge to get attention from DIY investors looking for an online trading account, especially since some of their closest rivals have elected to slow down in April. Heading into the end of the month, it should be interesting to see what May holds as even more offers (such as the free trade deal from TD Direct Investing) are scheduled to expire.
Tweets of the Week
This week's tweets feature some interesting tech highs and lows. Mentioned this week are Questrade, RBC Direct Investing, Scotia iTRADE, TD Direct Investing and Virtual Brokers.
Event Horizon
Spring is in full swing, and it's a glorious week ahead for discount brokerage-sponsored investor education events. Here are some upcoming sessions that may be of interest to options enthusiasts, those interested in networking with other investors, and technical and fundamental analysis. ETFs, a review of recent TD Direct Investing rate changes, and a fundamental landscape overview round out this week's selection.
April 25
Desjardins Online Brokerage (Disnat) – ETFs as Precision Tools
TD Direct Investing – Stock Talk
April 26
NBDB – Introduction to Technical Analysis : Supports and Resistances – [Fr]
TD Direct Investing – Understanding the Rate & Fee Changes Effective March 15, 2016
Desjardins Online Brokerage (Disnat) – Macro Masters Foundations Course
April 28
Scotia iTRADE – Beginner Options with AJ Monte
Desjardins Online Brokerage (Disnat) – Macro Masters Foundations Course
TD Direct Investing – Introduction to Fundamental Analysis
From the Forums
Chatterbots
Given the interest all around in what's going on with robo-advisors, it's no surprise that DIY investors are starting to become a bit more curious about how effective (or not) the robo-advisor 'promise' will live up to the hype. In this post from the Financial Wisdom Forum, the topic of robo advisors rebooted with some more recent chatter on the subject.
A Series of Fortunate E-vents
While a lot of the conversation about brokerages online tends to skew negative, it was nice to see something positive emerge. In this post from reddit's Personal Finance Canada section, one investor shares their experience with getting their TD e-Series funds.
Into the Close
Heading into the weekend, there is definitely a cloud hanging over music lovers with the passing of a musical genius this week. While the artist may gone, the art will continue to inspire. On that note here's an encore performance showcasing a talent that the world will definitely miss.