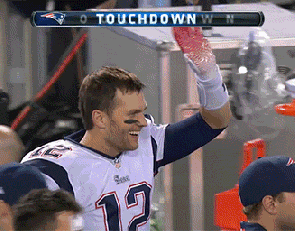 Just a few more days until school begins but from the looks of things, investors are already enrolled in the school of hard knocks. Unlike Tom Brady, however, many DIY investors are not going to get away without a few bumps and bruises to their portfolio.
For Canada's discount brokerages, the volatility is a double-edged sword. Trading tends to go up when markets whipsaw which, of course, is great for generating trading commissions. Unfortunately, crashing markets tend to keep the fearful away from opening up new accounts.
In this week's discount brokerage roundup, we'll take a look at volatility in the deals and promotions section for the new crop of offers. Next we preview the upcoming season Canadian brokerages love and loathe followed by a 'big bank' theory that showed up in this week's discount brokerage tweets. Finally, we cap off the roundup with some upcoming investor education events and a couple of very interesting forum posts.
Fall Selection
Coming into September, the deals and promotions activity at Canada's discount brokerages mirrored the markets by pulling back significantly. Seven deals expired at the end of August and only two showed up to replace them leaving a grand total of 11.
Fall is typically a busy season for online brokerages so there is likely a ramp up for deals and promotions on the near horizon. Of particular interest is the fact that several online brokerage rankings are just around the corner. In years past there have been some incentives or promotions that are timed around announcements from the ranking results.
Questrade still dominates the online brokerage promotions space when it comes to the number and diversity of promotional offers with 5 deals currently in play. And, although BMO InvestorLine and Scotia iTrade both technically have two offers each, it's clear that there aren't many concurrent offerings from the other online brokerages heading into the fall (at least not yet).
Another noteworthy observation from this month's deals activity was that several firms (big bank and independent) did not take down the expired deals from their websites, even well into the new month. Given that expired offers can create confusion for site visitors or convey the impression that an online brokerage is not tending to its online image, it was interesting to see these offers continue to be visible. In such a competitive field, these seemingly minor elements can end up tipping the balance in favour of those brokerages that appear to be perceived as more responsive.
With market volatility making headlines, it is going to be a challenging time for Canadian brokerages to get noticed and to provide incentive for DIY investors to step into the market. Those who are up for the challenge, however, will have to be able to be a little bolder than what's currently posted in order to make investors pay attention.
Best Online Brokerage Award Season
It's almost that time of year again for the crown of 'best Canadian online brokerage' to be handed out, again and again and again and again.
Between September and December there are four different rankings of Canada's online brokerages that typically get released: the J.D. Power Investor Satisfaction Survey, the Globe and Mail Discount Brokerage Rankings, Surviscor's Discount Brokerage Rankings and the Morningstar Best Online Brokerage Awards.
The J.D. Power awards for Canadian online brokerages are expected later this month while Rob Carrick's online brokerage rankings for the Globe and Mail usually land somewhere in mid to late November. Surviscor's awards are slated to arrive sometime in October or November and the Morningstar Canada Award winners are announced at an evening gala event which takes place this year in Toronto on November 25th.
As a lead up to the upcoming online brokerage awards season, this past week, Morningstar Canada tweeted the nomination form for the best online brokerage award – which is a submission based award.
Who operated 2015's best online #brokerage? Make your submission for #MstarawardsCA! http://t.co/aaERKx6qi9 pic.twitter.com/lkiLgXABZv

— Morningstar.ca (@MorningstarCDN) September 4, 2015
What this means is that brokerages can, for a $1,000 entrance fee (the fee goes to the charitable partner for this event MusiCounts), submit their firm for consideration for the best online brokerage award. The submission form covers three main areas: online presence, customer service and costs. A panel of several jurors, typically made up of professionals within the online brokerage industry assess the submissions and then select the firm they think provided the best submission. What all of these different awards point out, however, is that there are many different ways to define who the 'best online brokerage' in Canada is. For DIY investors and online brokerages alike, this is an unfortunate reality. Since so many firms use the term "best" its meaning has now lost the weight it once carried. Ironically, what having these different measurements points out is that no one system is best when it comes to evaluating which Canadian online brokerage is the best.
Discount Brokerage Tweets of the Week
This week's volatility in trading markets provided an interesting backdrop to what DIY investors were commenting about on Twitter. Specifically it wasn't what they were saying so much as who they were saying it to and when the conversations were happening. In this week's discount brokerage tweets, the big bank owned brokerages were getting quite a bit of attention. Another interesting observation: Scotia iTRADE's twitter account was getting coverage on the weekend. Over the past several weeks we've seen tweets that show up late Friday or across the weekend get answered on the Monday. This past week, however, it was noteworthy to see Scotia iTRADE provide extended coverage. For the other bank-owned brokerages and independent brokerages, simply providing the scheduled tweets on the weekend looks like it isn't going to cut it anymore.
Event Horizon
It's back-to-school with this week's discount brokerage-sponsored investor education events. Here are some upcoming educational sessions that may be of interest to technical and fundamental analysis enthusiasts. Trading strategies, ETFs, and options round out this week's selection.
September 8th
Scotia iTRADE – Cash Management Using ETFs with Horizons ETFs
TD Direct Investing – Chart Smart | The Relative Strength Index (aka "The RSI")
September 9th
Scotia iTRADE – Long-term Liabilities are the Real Benchmark to Beat with Purpose Investments
TD Direct Investing – Options as an Income Strategy
September 10th
TD Direct Investing – Introduction to Fundamental Analysis
NBDB – Trading Plan and Investment Strategy for Mid and Short Term Traders – [Fr]
From the Forums
In keeping with the theme noticed on Twitter, there were a couple of interesting posts about bank-owned online brokerages that surfaced in the Canadian investor forums.
Taking off the Trading Wheels
In this first post from the Personal Finance Canada community on reddit, one mid 30's user had some questions about getting started with their new RBC Direct Investing account, including setting up order types and ETF purchase strategies.
A Convenient Coincidence
Meanwhile, in a separate thread on RedFlagDeals' investing forum, a similar scenario emerged for a user considering either BMO InvestorLine or Questrade for a TFSA. Interestingly, the convenience factor is a definite pull for some DIY investors. This post was also really interesting because Questrade's reps did not hesitate to jump on the chance to explain the value of their offer. Well played Team Questrade. Well played.
Into the Close
That does it for this edition of the roundup. Enjoy the long weekend and remember that markets in the US and Canada are closed Monday for the Labour (or Labor) Day holiday. For those longing for volatility anyway, from the PNE to the CNE to Canada's Wonderland to La Ronde, there are at least a few ways to get your roller-coaster fix. In the meanwhile, here are 10 roller coaster rides that might or might accurately capture the sentiment for the last few trading days.