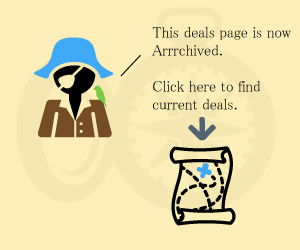 This October the deal wheels keep on turning.    Overall, it looks like competition at Canadian discount brokerages is heating up with 6 discount brokerages currently offering some kind of promotion. To help make sense of the deals, this month we're rolling out Deal Analytics (explained below) which will help provide support to individuals trying to compare offers from discount brokerages.
September saw a number of discount brokerages start to jump into the deal pool in a big way.  RBC Direct Investing, Scotia iTrade and HSBC InvestDirect were just some of the big names that launched some sizable offerings.
October is sure to be filled with many announcements and surprises so be sure to check back through the month as several discount brokerages will be launching either new features and/or promotions to go with them.
Expired Discount Brokerage Deals:
Investors who love their AirMiles will be sad to see this deal depart, however the InvestorLine Airmiles promotion, which expired at the end of September had a fairly decent run.
Extended Discount Brokerage Deals:
Scotia iTrade's refer-a-friend deal has been extended again, this time with the expiry date set to October 31st 2013.  A rep from Scotia iTrade confirmed that it is likely that this offer will continue on, with the expiry dates continuing to be updated as required.
New Discount Brokerage Deals:
Of course one of the biggest deals launched this month is the BMO InvestorLine offer of 250 commission-free mobile trades and $250 cash (depending on the size of the account deposit).  This deal is a unique offering because it signals a definite interest by BMO InvestorLine to have clients use their mobile trading platform.  The fact that the time frame of the deal goes through until January is also another indicator that BMO InvestorLine is prepared to double down on deals and mobile.   For those interested, be sure to read their terms and conditions as there are important restrictions (TFSAs don't qualify for this promo for example).
Deal Analytics
This new addition to the deals section is intended to help provide an improved way of seeing what kinds of deals are being offered by different discount brokerages.  Starting this month, a table summarizing the "Free Trade / Commission Credit" offers will provide an overview of discount brokerages offering 'commission free' trading and those offering commission credits.  This section will likely evolve from the current format so if you have any feedback on what you'd like to see in there, drop us a note here.
Commission-Free Trading Offers
To read the commission-free trading offers, the numbers contained in the cells of the table refer to the number of commission free trades being offered.  Beside the number is another number in round brackets (ex. 60d) which refers to the time period associated with being able to use those commission-free trades.  So, for example, an entry like 100(60d) means that there are 100 commission-free trades being offered with an expiry date of 60 days.
When a commission credit is being offered, an estimated range of how many free trades the credit would result in is offered and is contained in square brackets (ex: [5-10] refers to between 5 and 10 trades). The actual amount of the commission credit is denoted with a "CR:" (for example CR:$300).
There may be entries that are combined with offers, and in these instances there will be a "+" symbol beside the number of trades to indicate there may be additional parts to the offer.
Deal Analytics
| Commission-Free Trading & Commission Credit Offers | #colspan# | #colspan# | #colspan# | #colspan# | #colspan# | #colspan# |
| --- | --- | --- | --- | --- | --- | --- |
| | Deposit Amount | #colspan# | #colspan# | #colspan# | #colspan# | #colspan# |
| #rowspan# | Not Required | $1000 | $10,000 | $25,000 | $50,000 | $100,000 |
| | | | | | 250 (60d) | 250 (60d)+ |
| | | | | | [10-60] (180d) CR:$300 | |
| | 50 (60d) | | | | | |
| | | | | | | |
| | | 1. 10 (60d) 2. [5-10] (no expiry) CR:$50 | 100 (60d) | unlimited trades (30d) | | |
| | | | | 25 (365d) | | |
| | | | | 100 (60d) | | |
Discount Brokerage Deals
| Company | Brief Description | Minimum Deposit Amount | Commission/Cash Offer Type | Time Limit to Use Commission/Cash Offer | Details Link | Deadline |
| --- | --- | --- | --- | --- | --- | --- |
| | A Sparx Trading exclusive offer! Use the promo code "Sparx Trading" when signing up for a new account with Jitney and receive access to their preferred pricing package and a massive 45% discount on the Real Tick trading platform. | n/a | Discounted Commission Rates | none | For more details click here | none |
| | Open a new trading account with HSBC InvestDirect and receive 50 commission-free trades good for use up to 60 days after account opening. | n/a | 50 commission-free trades | 60 days | For more details on the free trade offer read the terms and conditions and also the frequently asked questions | December 31, 2013 |
| | Open a new account (TFSA, Margin or RRSP) and receive $50 commission credit . Use promo code: kdkfnbbc | $1,000 | $50 commission credit | none | none | none |
| | Refer a friend to Questrade and when they open an account you receive $100 and they receive $50. To receive this deal you must be an existing client with an equity account and refer a person that does not reside with you and who has not previously opened a Questrade account. | $1,000 | $50 commission credit (friend) $100 commission credit (referrer bonus) | 60 days | Refer a friend | none |
| | Open a new account (TFSA, Margin or RRSP) by November 30 with A) $1000 or B) $10,000 to receive either A)10 commission-free trades or B)100 commission-free trades. The promo code QT100 must be used at time of account opening. There are many conditions attached to this offer so be sure to read the details link for more information. | A)$1,000 B)$10,000 | A)10 free trades B)100 free trades | 60 days | 100 commission-free trades | November 30, 2013 |
| | If you refer a friend/family member who is not already a Scotia iTrade account holder to them, both you and your friend get a bonus of either cash or free trades. You have to use the referral form to pass along your info as well as your friend/family members' contact info in order to qualify. There are lots of details/conditions to this deal so be sure to read the details link. | A)$10,000 B)$50,000+ | A) You(referrer): $50 or 10 free trades; Your "Friend": $50 or 10 free trades (max total value:$99.90) B) You(referrer): $100 cash or 50 free trades; Your "Friend": $100 cash or 50 free trades (max total value: $499.50) | 60 days | Refer A Friend to Scotia iTrade | October 31, 2013 |
| | Open and fund a new Scotia iTRADE account with at least $25,000 before November 25, 2013 and the commissions associated with your first 100 trades placed within 60 days of the date the account is activated and funded are free. Also, the new FlightDesk platform is being offered for free for 60 days. Use promo code 100FT. See details link for further terms and conditions. | $25,000 | 100 commission-free trades ($999 value @ $9.99 commission rate) | 60 days | Scotia iTrade 100 free trades + FlightDesk | November 25, 2013 |
| | Open and fund a new account with $25,000 or more and you will qualify for 25 free trades. The offer code changed with different visits to the site, so click through the RBC Direct Investing homepage to generate a valid code. There are a number of terms and conditions attached to this offer, be sure to read see the details link. | $25,000 | 25 commission-free trades (no restriction on commission rate listed) | 365 Days | 25 Free Trades Offer Terms & Conditions ; To generate an offer code, go to the main site and click the ad for the offer here | November 30, 2013 |
| | Open a new account with National Bank Direct Brokerage before Oct. 31st and the commission rate for equity transactions will be fixed at $6.95 for 6 months. Use promo code: EVENT2013. Since this is unadvertised, you'll have to call their customer service line: 1-800-363-3511 for full details. | $25,000 | $6.95 fixed commission rate for 6 months | 6 months | Click here for a low-res version of flyer or here for a high-res version. | October 31, 2013 |
| | If you refer a friend/family member who is not already a National Bank Direct Brokerage account holder to them, both you and your friend get a bonus of $100 each. The promotion code "FRIEND" must be used on the account application form. Read the details link for full terms and conditions. Note the maximum referral bonus per client is $1000. | $25,000 | $100 referral bonus (referrer) $100 referee (your "friend") | Payout occurs after 6 months | Share $200 with a Friend Promotion | October 31, 2013 |
| | Open a new account (TFSA, Margin or RRSP) and receive 30 days of commission-free trading and one month free of the US Advanced market data package. Use promo code ADVANTAGE13 when signing up. Offer is open to new clients only. There are a number of important conditions to qualify – be sure to read terms and conditions to the deal. | $25,000 | 30 days unlimited commission-free trading + 1 month free Advanced US market data package. | 30 days | Advantage Promotion | October 31, 2013 |
| | Disnat isoffering new & existing clients $300 in commission credits which can be used for up to 6 months. To be eligible, new/existing clients need to deposit $50,000 into a Disnat account. You'll have to call 1 800 268-8471 and mention promo code Disnat300. See details link for more info. | $50,000 | $300 commission credit | 6 months | Disnat $300 Commission Credit Promo | December 31, 2013 |
| | Open a new account or upgrade an existing account with A) $50,000 or more OR B)$100,000 or more and receive either A)250 commission-free mobile-placed trades OR B) 250 commission-free mobile-placed trades + $250 cash back. Use Promo Code: MOBILE when signing up to qualify. NOTE: There are lots of details/important conditions attached to this promotion. Be sure to read the terms and conditions carefully. | A) $50,000 B)$100,000 | A) 250 commission free mobile-placed trades B) 250 commission free mobile-placed trades + $250 Cash Back | Payout occurs after 6 months | Free Mobile Trading/Cash Back Offer | January 6, 2014 |
| | If you refer a new client to BMO InvestorLine and they open an account with a)$50,000 – $249,999 or b)$250,000+ the referrer and the referee will both receive cash. The new account must be opened with the referral code specific to the referrer. | A) $50,000 – $249,000 B) $250,000+ | A) You(referrer): $200; Your Friend(referee): $50 B) You(referrer): $300; Your Friend: $100 | Payout occurs after 60 days (subject to conditions). | Refer-a-Friend terms and conditions can be located by logging into the InvestorLine panel under "account services" or by contacting BMO InvestorLine directly | December 31, 2013 |
| | Open a new account with Scotia iTrade and fund it with at least $100,000 to receive $150 cash back. Use code FALL2013 when signing up. The offer is open to new and existing clients. There are many terms and conditions, be sure to read the details link. | $100,000 | $150 Cash Back | Payout occurs after June 30, 2014. | To learn more about the deal terms and conditions click here | November 25, 2013 |
Transfer Fee Deals
| Company | Brief Description | Maximum Transfer Fee Coverage Amount | Deposit Amount for Transfer Fee Eligibility | Details Link | Deadline |
| --- | --- | --- | --- | --- | --- |
| | Move your brokerage account to Questrade and they'll cover the transfer-out fee up to $150. | $150 | $25,000 | Transfer Fee Promo | none |
| | Transfer $25,000 or more to RBC Direct Investing and they will pay up to $135 in transfer fees | $135 | $25,000 | Transfer Fee Rebate Details | none |
| | Transfer $25,000 or more to a National Bank Direct Brokerage account and they will pay up to $135 plus taxes in transfer fees | $135 | $25,000 | Transfer Fee Rebate | none |
| | Qtrade Investor will reimburse your transfer fee up to $125 when transferring a balance of $25,000 or more. For reimbursement, please mail or fax a copy of your statement from the transferring institution that shows the transfer charge to Qtrade Investor at 604.484.2627 and indicate your Qtrade Investor account number. | $125 | $25,000 | Transfer Fee Promo | none |
| | Disnat is offering up to $150 to cover the cost of transfer fees from another institution. To be eligible, new/existing clients need to deposit $50,000 into a Disnat account. You'll have to call 1 800 268-8471 and mention promo code Disnat300. See details link for more info. | $150 | $50,000 | Disnat $300 Commission Credit Promo | December 31st, 2013 |