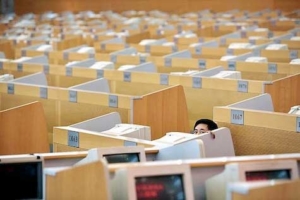 The Active Trading Strategies sessions that I attended took place at lunchtime in the downtown Vancouver investor center. The centre itself is a space for retail investors to directly contact TD Waterhouse representatives as well as catch up on what's going on in the financial markets via the BNN broadcast or with newspapers provided. Also taking place in the investor centre are regular free seminars that deal with a variety of investment-related educational topics as well as product orientation for TD Waterhouse Discount Brokerage platforms such as WebBroker.
In this session, a handful of do-it-yourself investors were taught some basics about what active trading is, the different types of trading strategies as well as a bit about technical analysis, level 2 trading and using company insider trading reports.  This session covered quiet a bit of ground but did so at a surface level and while it was definitely aimed at a beginner investor, there are many concepts beginner investors are probably going to have to look up and learn about. If you're looking to prep before going to one of these you might want to brush up on some basics of technical analysis found in this post (also check out the section on Moving Average Convergence Divergence [MACD] here).  Overall, the session was definitely geared towards education (rather than product orientation) and supporting retail investors, however quite a bit of homework before and after this session is probably necessary if you're just starting out.
TD Waterhouse discount brokerage is planning to fine tune their investor education seminars this coming fall. According to their representatives, sessions will be organized for beginner, intermediate and advanced traders/investors to help their clients attend seminars that better match their investment knowledge background.
The session had a couple of added bonuses – the first was a draw for a nifty TD Waterhouse bag, and the second was for an exclusive "free trade" deal to open an account which we've listed in our deals section.
To find out about TD Waterhouse Discount Brokerage seminars, you can click here or to learn more about TD Waterhouse Discount Brokerage, check our broker profile page for them here.