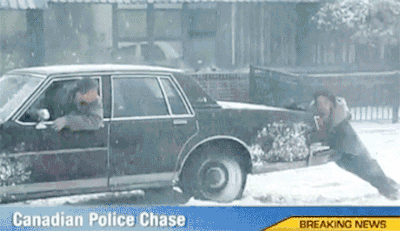 There's snow doubt about it, winter definitely showed up in Canada this past week. Of course, for those fortunate or wise enough to have been prepared, weathering the storm just seemed like just a matter of time.
Speaking of time, curling up by a cozy fire to read this edition of the Roundup is a great way to get up to speed on a few interesting developments that took place amidst all the wild weather this past week. To kick things off, we look at the latest (and long-awaited) update to a mobile app for one online brokerage. From there, we provide an update to the deals & promotions being offered by Canadian discount brokerages as a familiar cast member makes a re-appearance just in time for the RSP season. Also, the race to the top of the online brokerage mountain in the US is providing some interesting clues to online brokers here in Canada. Finally, we welcome back the comments and critiques from DIY investors on Twitter and in the forums.
Virtual Brokers Unveils New Mobile App
With more investors turning to their mobile devices for just about everything, having a strong mobile app experience for online brokerages is no longer becoming a 'nice to have' feature. In fact, with brokerages like Robinhood (in the US) and Wealthsimple Trade going 'mobile first' with their online investing experiences, there is little room for error for existing online brokerages when trying to retain clients.
The NEW Virtual Brokers mobile app is now LIVE!

To download or to find out more about our app, please visit:

IOS App Store: https://t.co/VzBq5Yxbdx

Android Play Store: https://t.co/SRcg7aP5tJ pic.twitter.com/EXHGjuzmCp

— Virtual Brokers (@Virtual_Brokers) January 15, 2020
After a long-awaited update, Virtual Brokers has begun rolling out their new mobile app for both iOS and Android. The new app, which replaces their existing Power Trader Mobile app couldn't have come any sooner for many clients.  Power Trader Mobile, which has been around since 2013, managed just 2 stars out of 5 on both Google's Play Store and the Apple App Store.
So, hopefully, with a new year there's a new start to the mobile experience. Already the early reviews on the App Store paint a picture of a better experience. Although there are only 2 reviews, the score of 4.5 from what look to be beta testers, looks promising.
The features on the new mobile app enable users to trade stocks and mutual funds – including get stock quotes; view account and transaction details; review orders and positions; withdraw and deposit funds, as well as view basic charts.
The interface of the new app also appears to be much more modern looking and easier to navigate. Screen shots available on the App Store highlight a refreshed look and improved user experience.
Like the refresh of a website, the launch of a new trading platform isn't going to generate a lot of news or waves for DIY investors. Yes, it is something that is probably going to be appreciated by the scores of patient clients who were waiting for something better but the current release of the mobile app by Virtual Brokers is not so much a game changer as it is something that brings them back into contention with other brokerages.
One of the bigger challenges facing Virtual Brokers in the highly competitive online brokerage space in Canada is to get online investors to pay attention to this and any new features they roll out. While the online brokerage rankings offer a great way to showcase Virtual Brokers to the readership of the Globe and Mail, there is a lot of ground to cover to compete against their traditional rivals, Questrade, and the bank-owned brokerages in terms of brands that investors will talk about or tune into. Features like a mobile app launch are important but to truly stand out, pricing and innovation are key elements that should take centre stage. 
New (Reappearing) Deal for RBC Direct Investing
As we tick closer to the RSP contribution deadline, there is yet another discount brokerage deal announcement crossing the wires. Making a reappearance to the deals and promotions section this month, and in time for the RSP season, is a familiar commission-free offer from one of the most popular online brokerages – RBC Direct Investing.
Their 25 commission-free trade offer is back. With trades that are good for up to one year, a minimum deposit of $5,000 to qualify and an expiry date well after the contribution deadline, there is a low hurdle to qualify for this promotion at this bank-owned online broker.
With the re-entry of RBC Direct Investing to the premiere tier of offers for DIY investors, the major bank-owned online brokers are now all offering something substantial this RSP season. In fact, there are really only a handful of online brokerages who don't have a major offer in this category at this time – notably Virtual Brokers and HSBC InvestDirect. With the bigger or better-known providers now offering up something substantial, there is not going to be any better time for those on the sidelines to launch an offer that can compete with the other online providers.
Schwab Rallies Despite Earnings Miss
If there's one thing that investors pay attention to when it comes to stocks, it's earnings. And, generally when earnings don't meet expectations, prices usually fall. Of course, when they don't, there is always a pretty good reason behind the gravity-defying behaviour and often it comes back to a bet on something bigger on the horizon.
Such was the case for the largest online brokerage in the US (and planet), Charles Schwab, who reported quarterly earnings this past week. While the reported earnings per share fell short of estimates by a few pennies, the eye-popping numbers that also accompanied this earnings report demonstrates just how big of a juggernaut Schwab has become on the heels of their decision to go to zero-commission equity trading and to acquire their large rival TD Ameritrade.
One big stat to pay attention to in their latest earnings announcement was the drop of commission revenues of 58% (down to $86 million dollars US). Nonetheless, the bigger news is that client assets under management ballooned 24% higher in the year to cross the $4 trillion dollar (US) mark – a new record high for the online brokerage.
For the share price to rise by almost 3% to end the week is signal by investors that they're looking at the future for this online brokerage with optimism. Indeed, the assets that continue to get accumulated by Schwab are a great reminder that sustainability for online brokerages is going to be linked either to scale, operational efficiency, or irresistible innovation. For Canadian online brokerages, it's tough to point to any brokerages right now that are winning based on personality (although Wealthsimple is certainly putting on a clinic as far as marketing is concerned), so it's either go big, go fast, or go home. And as far as the market's concerned, it seems that go big is the winning option for now.
Discount Brokerage Tweets of the Week
Discount Brokerage Tweets – Curated tweets by SparxTrading
From the Forums
Age-Old Tips
A user wonders if their plan of allocating "my age minus 10 to bonds" is considered wise and fellow Redditors weigh in on a potentially outdated, and overworked, practice. Read more here.
Lights, Camera, Class-Action
When it comes to being in the spotlight ahead of RSP season, the Canadian financial service industry invests quite a bit to be top of mind. In this Reddit post, however, there is a significant storm brewing in the form of a class-action lawsuit over the way mutual funds were recommended to investors.
Into the Close
That's a wrap on another bumpy week in the markets. In spite of the of volley of news stories of various degrees of shocking, equity markets in the US are sloping higher than a Newfoundland snow drift and Canadian equity markets are also pushing to new heights. If there's solace or good news to be found anywhere, right now it's in market momentum. And a Superbowl featuring the 49ers and Chiefs.