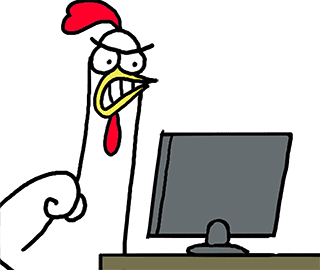 Welcome back to the market action after what was hopefully a restful long weekend. While many DIY investors will start the week feeling cheerful, it was pretty clear that after a stretch like the one we've just witnessed, a few online brokerages are feeling like they've had the stuffing knocked out of them.
With so much chatter and attention focused on commission-free trading battles taking place in the US, it's easy for news stories and developments from Canadian online brokerages to fly under the radar. Fortunately, this post (Canadian) Thanksgiving edition of the Roundup is tracking some of the smaller but important developments taking place. Our first story highlights some deals activity that points to more volatility in October for discount brokerages in Canada. From there we'll review emerging trends of features and enhancements that, curiously, aren't getting a lot of coverage. As always, we'll serve up the forum post favourites and a healthy portion of Twitter commentary to cap things off.
Discount Brokerage Deal-ite
With the end of the year in sight, there will be more than just Christmas decorations starting to light up online brokerages across Canada. Invariably, the more organized among us will already be done with their Christmas gifts and be kicking the tires on RRSP accounts. As such, Canadian discount brokerages are likely seeing their websites light up with traffic from these early shoppers looking to get a handle on what offers and features exist to support investing for retirement.
This past week, we noticed RBC Direct Investing, one of Canada's largest bank-owned brokerages, re-release one of their more popular offers to Canadian DIY investors: 25 commission-free trades that are good for up to one year.
While this latest move by RBC Direct Investing coincides with the celebration of their 30th anniversary as an online brokerage in Canada, it's clear that commission-free "offers" now have to stack up against the expectation and anticipation of "commission-free trading." Indeed, a lot has changed over the past 30 years in the online brokerage industry, with the biggest changes taking place over the past few weeks.
Undoubtedly, the tsunami of zero-commission trading that slammed into the US online brokerage market has been (and will be) a hot topic of conversation among Canada's discount brokerages. With the launch of this latest offer from RBC Direct Investing, other Canadian online brokerages will also be feeling the pressure to come to market with something equally, or more, compelling.
Timing-wise, October will continue to be an interesting and somewhat volatile month for Canadian discount brokerage deals – especially those from bank-owned online brokerages.
For example, Scotia iTRADE's "Get Self-Started" lowered pricing and cash back offer is scheduled to expire on October 15th (at the time of publishing). Later in October, BMO InvestorLine's cash back promotion is also set to expire.
Add into the mix that National Bank Direct Brokerage's new lower pricing takes effect on October 15th, and it is clear that the remainder of the fall season will be great for DIY investors seeking out better pricing on commissions and deals suited to attract new business.
With all of the activity taking place this week, we're banking on the fact that this will be just the beginning of a burst of activity from Canadian online brokerages who are gearing up for their most competitive year ahead yet.
New Website Changes Signal New Features & Strategies
With online trade commission pricing facing even more downward pressure, the writing is on the wall for the Canadian discount brokerages to get more creative and improve their user experience. Given the recent events in the US online brokerage market, the timetable to deploy these new changes has almost certainly been accelerated.
Commission commotion aside, over the past few weeks we've noticed some interesting changes to several online brokerages websites that have been curiously flying under the radar.
One of the first important changes noted was the Virtual Brokers website, which quietly underwent a significant facelift earlier this month.
Historically, the launch of a new website was almost always accompanied by some kind of announcement, press release, or even chatter on social media or investor forums. In this case, there was no mention to be found on social media channels run by Virtual Brokers or chatter from investors.
The look and feel of the new site is more streamlined and hints towards a new visual direction. It's less "cartoony" and more corporate, with a heavy emphasis on their designation as the "best online brokerage" by the Globe and Mail.
It's hard to say whether no reaction is better than a negative one, but it is noteworthy that nobody mentioning anything is possibly a harbinger of where online investors are pointing their attention (and where they aren't) when it comes to Canadian online brokerages. Redoing a website is no small feat, so it's a safe bet there was a lot of effort and expense that went into the redesign and what the ROI is will remain to be seen.
Interestingly, with a new CEO (Kurt MacAlpine) taking the helm at CI Financial, the parent to Virtual Brokers, as well as digital being "critical" to the long-term strategy at CI, it seems like there will have to be a series of significant changes coming.
Clearly the non-bank-owned brokerages (other than Questrade) are going to have to double down on efforts to stay in the spotlight given the competitors they are up against. A rethink of digital experiences and pricing strategies is almost certainly the next order of business to come.
On the bank-owned brokerage end of things, we have also been noticing changes appearing to the CIBC Investor's Edge website, specifically with regards to the design and knowledge-driven features appearing on the homepage. Interestingly, there were whispers of a new platform coming from Investor's Edge in a forum thread in September so these changes seem to be in line with, or supporting, a shift in either look and feel or user experience.
One of the most important evolutions to the CIBC Investor's Edge site that has been taking place is in the knowledge base. From webinars to video content to articles, it appears that Investor's Edge has been working quietly to build out this important kind of resource and making it publicly accessible to DIY investors.
Similar to Investor's Edge, we've also taken notice of a buildout of the knowledge base at Scotia iTRADE. Historically iTRADE has invested consistently in webinars for educational content, however, over the past year or so there has been more focus being placed on supporting material (e.g. "how to") and other financial content, such as their tax content series.
In spite of all of the changes mentioned above, one interesting observation regarding these additional features has been the relatively quiet, if not completely silent, roll out.
The emerging picture is a curious one. On the one hand, it's clear that Canadian online brokerages are actively working to deliver value-added components to their product experience, in part, to offset the perception of being a place to go to for low-cost trade execution. That said, the accompanying lack of chatter or lack of excitement/buzz is anomalous.
With commission rates under pressure of falling further, it is going to become increasingly more important for online brokerages to highlight what makes them special.  The muted messaging and marketing from several notable online brokerages around new feature development make it harder for DIY investors to talk about what's special about an online brokerage.
By cutting back on marketing, discount brokerages may feel like they're saving precious resources, but if there's one thing that online brokerages can't afford more than lower commissions, it's to be forgettable.
Discount Brokerage Tweets of the Week
Discount Brokerage Tweets – Curated tweets by SparxTrading
From the Forums
Platform for Discussion
When it comes to picking a trading platform, finding a straight answer is somewhat of a challenge. In this forum post on RedFlagDeals, one forum user decided to create a new watering hole for fellow readers to contribute information on and learn about discount broker trading platforms.
Greener Pastures
There's no question the environment is having a moment. But is investing in green energy as good for a portfolio as it is for the planet? A Redditor asks for advice to help his parents invest in green energy ETFs and gets some sage advice for those nearing retirement. Read more here.
Into the Close
After the long weekend, there's a lot to digest heading into the week ahead (not just the leftovers either!). It will be another wild week for US online brokerages as earnings from Schwab cross the wire premarket on Tuesday, and E*TRADE after market on Thursday. The lingering questions for analysts, investors, and other industry participants is where things go from here, and this week, we may just get a much clearer picture.