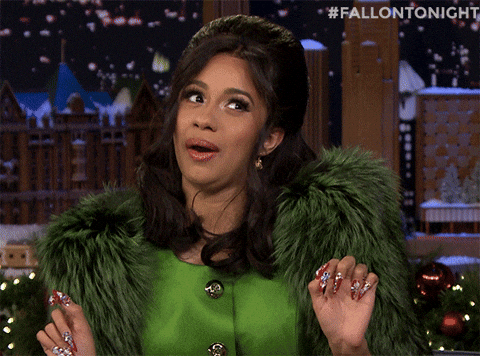 November is here and wow did it ever make an entrance. Stock market and political volatility, the launch of Financial Literacy Month, a new fiscal year for online brokerages and it happens to be the most important milestone in the calendar year for bargain hunters. With so much going on, it happens to be a fitting sentiment for this week's roundup as there are big moves (and to quote Cardi B) and money moves. Never thought Cardi B would make an appearance here, but it's been that kind of a week.
This is definitely a marathon edition of the roundup, so it's worth stating up front, you may want to get comfy. Kicking things off, it's the start of a new month which means taking a look at the latest discount brokerage deals and promotions as well as a commission-free trading offer that is bound to cause more drama (but less shoe throwing) than a Cardi B encounter with Nikki Minaj. Speaking of bold and provocative characters, the next story dives into the launch of a new website by one bank-owned brokerage looking to reshape its approach to online investors. As always, we'll supply some DIY investor drama from the discount brokerage tweets as well as look at what people were curious about in the investor forums.
Savings are Coming
Black Friday and Cyber Monday may be what November is famous for, but for Canadian DIY investors, the enthusiasm for deals this month has undeniably spilled over to the online brokerage market. Unlike either of the major shopping days, however, what's taking shape in the Canadian online investing space is much more profound and longer lasting than the fleeting bargain hunting days.
This month's discount brokerage deals saw the arrival of what might be the first in a set of responses to commission-free trading by Wealthsimple Trade's announcement in the summer that commission-fee stock trading is coming to Canada.
Specifically, National Bank Direct Brokerage launched an incredibly aggressive offer for new and existing clients: 50 commission-free trades, which are good for up to a year, as well as a threshold to qualify for the offer of 'only' $5,000. While all of the features individually are not unique to online brokerage offers, the combination of these offers is. The only other online brokerage that has a commission-free trade promotion that let's investors take up to a year to use them is RBC Direct Investing – and that promotion (which also requires a deposit of $5,000) is for 20 trades and is currently targeting healthcare workers.
The first important observation is that commission-free trades could be a popular choice for online brokers to turn to and the way they can deliver more utility (and value) to DIY investors is to give them a long time to use them up.  Normally (and even currently), DIY investors would have anywhere from 30 days to 6 months to use commission-free trade credits, with the most popular range coming in at about 60 days, so having one year do any commission-free trading is comforting.
A second important observation here is the threshold to qualify for the deal. By setting the minimum discount so relatively low, this offer naturally appeals to younger investors or those who are just getting started – or who want to experiment – with online investing. What better way to try out online investing than with a little bit of capital and no commissions to pay for 50 trades?
It's certainly an interesting move to keep a fixed number of trades as opposed to many of the tiered promotions, which offer additional incentives as the deposit balance grows. In the case of NBDB's offer, there is no financial incentive per se for bringing a larger deposit.
This month NBDB wasn't the only online brokerage to use commission-free trading to sweeten the deal for investors, BMO InvestorLine also launched a new series of offers for online investors that combined a tiered cash back component with a commission-free trading component.
In the case of BMO InvestorLine, they're offering between $100 and $1,000 cash back for deposits ranging from $50,000 to $600,000+. On top of the cash back component, individuals are also being offered 30 commission-free equity trades which are eligible to be used in February and March of 2019 – the precise window of time when activity related to RRSPs ramps up ahead of the contribution deadline.
With some notable online brokerages still on the sidelines, the uptick in value of now live offers will almost certainly increase the stakes and urgency to participate.
Currently, CIBC Investor's Edge and BMO InvestorLine's uncontested cash-back offers are giving them considerable exposure to DIY investors keen to open an online investing account. With National Bank Direct Brokerage's latest aggressive promotion also now in the mix, there will almost certainly be new offers coming from bank-owned brokers that will have to ante up to the value being tabled by other online brokers. As we had mentioned in last week's roundup, there is a clear signal from the parents of Canada's bank-owned online brokerages that customer growth is a top priority which means the online brokerage arm could be a way to bring those clients into the brand.
For DIY investors, the bottom line is clearly that Canada's online brokerages are going to have battle harder for new clients and to hang onto existing ones. This is an ideal time to start kicking the tires on an online investing account for those curious about making a switch or simply opening up a second (or third) online brokerage account. Of course, for valuable clients, it is also an ideal time to be negotiating for better commission or margin rates or better promotional offers for bringing assets to a new (or even existing) brokerage. In other words, don't be afraid to ask for a better deal, this happens to be a moment where online brokers are much more motivated to make one.
National Bank Direct Brokerage Charts a New Direction with New Website
2018 has been a year of many significant changes at National Bank Direct Brokerage. Earlier this year their parent brand, National Bank, put down some serious real estate roots in Vancouver and the online brokerage unit saw a new president join the team to lead the organization through an important digital transformation in wealth management. After many months (feels like longer for those involved), 2018 has also brought with it a new consumer-facing website at NBDB.
The new front end of the website is a complete overhaul with a much more modern look and feel to it than the previous site. Gone is the rotating slider, information-dense homepage and somewhat utilitarian design of the key information pages.
There's lots of space in the new National Bank Direct Brokerage website and information is well laid out so users can focus on important elements and sections without being overwhelmed. That kind of user experience consideration on new websites must be par for the course. And, it is definitely built around being more mobile friendly rather than desktop friendly. More on that in just a moment.
One of the most interesting elements of the new website that is pointedly different than other brokerages is the focus on women. That tone is set from the homepage hero image that is bold and confident and extends through the imagery on the top-level menu item landing pages of the website that consists exclusively of women.
The sections in the top-level menu are:
Invest with NBDB
Start investing
Pricing
Trends and tips
Events
Not only are the pictures well chosen, but they represent a diversity of women. This is a stark contrast to many other online brokerages and certainly a deliberate shift in the visual identity of the "typical" online investor. On that note, the pictures of the 'male' investors are also ethnically diverse and inclusive of investors younger and older.
In sum, there is strong visual appeal to the design and branding associated with the new website and it feels not just like a more representative and inclusive design, but a forward-thinking one.
Of course, when it comes to design, the devil is always in the details and for the new National Bank Direct Brokerage website, there are a few (easily fixable) rough edges.
The first is accessibility. In reference to what appears to be a heavily mobile-friendly website design, the contrast on the text on the desktop site menu is not as sharp/legible as it should be for older users nor is the text large enough to easily view. So, it is clearly built for younger eyes to be viewing the site on desktop or geared towards being viewed on mobile – again a preferred device for younger investors.
Another series of user experience rough edges encountered are the links pointing to unintended or non-functional pages. There is a neat feature that NBDB has built to let users determine whether they are beginner or advanced investors by taking a short (3 question) quiz. This interactive element is actually quite exciting to see on an online brokerage website, however, getting to the end of the quiz page yields a couple of unfortunate shortcomings.
The first is that it's clearly unfinished with both English and French copy appearing in what should just be the English version of the site.
The second is when clicking the "learn more" button, an English user gets taken to a French version of the website (see image below). Although there is a translate option at the top of the page, a user would generally have to know that option exists on a multilingual website and then be motivated enough to hunt for it.
Then there's just the grammar or spelling nut who will wonder how the footer text suggesting folks "stay tunes" made it through to the live version of the site.
Ironically, younger visitors might think elements like this are NBD (no big deal) especially given how much havoc autocorrect has wreaked on a texting generation but for a bank-owned brokerage and financial services provider, getting the details right matters to building trust and confidence.
In the grand scheme of things, these unfinished or quirky roll out bugs are easily fixed. In an agile world, there is a clearer preference to build and publish things and fix as needed – if there's one thing that can be relied on, its user feedback to point out where things aren't up to snuff. Interestingly, however, some of these oversights are on pages that face potential clients rather than actual clients, so the impact to the brand if these get left unaddressed could be more negative than they need to be.
Although there are even more interesting angles to cover about this new website, it is sufficient at this point to say that National Bank Direct Brokerage is signalling that they're moving in a bolder and more assertive direction, visually and functionally.
Their new website won't make a lot of waves on its own, however, the visual identity choices will have greater impact on new and existing clients as will their new commission-free trade offer which will more than likely drive a lot of curious traffic to the website. So long as NBDB can quickly close the gaps in the front-end presentation of their site, this new design positions them to resonate with the highly prized younger investor segment as well as other segments, like women investors, who can more readily see themselves as clients. For those reasons, with the roll out of this particular website, National Bank Direct Brokerage is setting themselves apart from some of their slower moving peers.
Discount Brokerage Tweets of the Week
Discount Brokerage Tweets – Curated tweets by SparxTrading
From the Forums
Advice for a Newcomer
A newcomer to investing and to Canada took to the Personal Finance Canada forum on reddit for some advice this week on where to open a TFSA and thoughts on their plan of action for the next 3 years. Check out some interesting discussion points from fellow forum users over questions of timing the market and deciding on long and short-term approaches. Read more here.
Fee Exchange
The questions of fees are always a hot topic in the forums. This DIY investor is looking to cut down on the dreaded mutual fund fee scourge and looks first to switching over to a Robo-advisor. But will paying one fee actually work out to be any cheaper? Read what interesting advice was offered here.
Into the Close
That's the buzzer on another wild week. Not only were things hectic for traders, there was a lot that we didn't get a chance to cover in this week's roundup so stay tuned to SparxTrading over the next few weeks as we shine a spotlight on some really interesting developments we've spotted. Fortunately, there's now an extra hour to get all that extra research and writing in (sounds fun right?). Don't forget to set your clocks back and to spend the saved hour wisely! Have a great weekend!