This week's discount brokerage update features the newly announced deal by BMO InvestorLine, a couple of great forum post on the Financial Webring Forum on Qtrade vs. RBC Direct Investing  as well as another article from The Globe and Mail about Canada's best discount broker.
Deals Getting Some Air
Unlike a lot of deals that tend to start right at the beginning of the month, BMO InvestorLine has tended to announce their new deals a few days into the start of a new month.  In keeping with their routine, this past week they BMO InvestorLine announced their latest promotion where new account openings can choose between receiving 2000 Air Miles or $250 cash back. The minimum deposit to qualify for this offer is $100,000 so it is one of the higher priced promotions currently being offered by a discount brokerage. For more details on this and other deals for June 2013, click here.
Traders Coming Back?
It looks like investor activity is starting to climb in the US which is likely the result of major indices hitting new all-time highs last month.  Overall markets appear to be shrugging off bad news and rallying on good news.  Interactive Brokers reported their daily average revenue trades (DARTs) improved from this time last year (13%) as well a slight month over month improvement (6%).
Canadian discount broker Questrade also reported improved options trading activity since they introduced multi-leg options trading.  The following screenshot of the news release hints at trading activity with Questrade having picked up. To read Questrade's full press release regarding options trading activity, click here.
Close is Good Enough
Looking through the Financial Webring forum, this post was spotted where the user ("Amira") was trying to decide between Qtrade and RBC Direct Investing.
One of the most interesting answers came from the user "Ockham" who basically suggested not worrying too much about picking the best discount brokerage as they are all very similar to one another: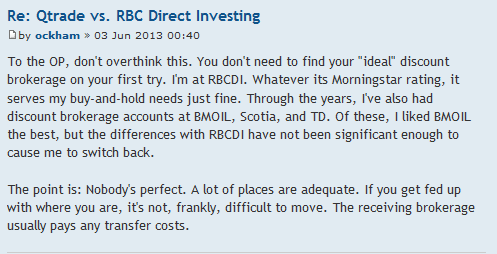 Another "Best Discount Brokerage"
An article in the Globe and Mail (by Gail Bebee) was published earlier this week entitled "For the DIY investor, which discount broker is best?"   This article is another in the growing list of those identifying who they think is Canada's best discount brokerage. Ultimately Gail Bebee narrowed her top three choices down to BMO InvestorLine, RBC Direct Investing and Qtrade with her top choice being BMO InvestorLine.
Whether the results from Rob Carrick's annual discount brokerage review will concur could make for interesting times at the champion's podium.
The Globe and Mail reports on how #BMO InvestorLine is the top discount brokerage in Canada bit.ly/17WqCbv

— BMO Media (@BMOmedia) June 4, 2013