Questrade Pricing Change:
Here's one for the "you don't see this from a financial institution every day".  We reported a recent announcement from Questrade in which they stated that they would be implementing a minimum activity threshold of one trade a month starting in July 2012 for those account holders with less than $5000 in their account. Those who did not make the one trade a month or have more than $5000 would be subject to a fee of $9.95.   This is still posted on their website as you can see here in the following picture taken on May 17th: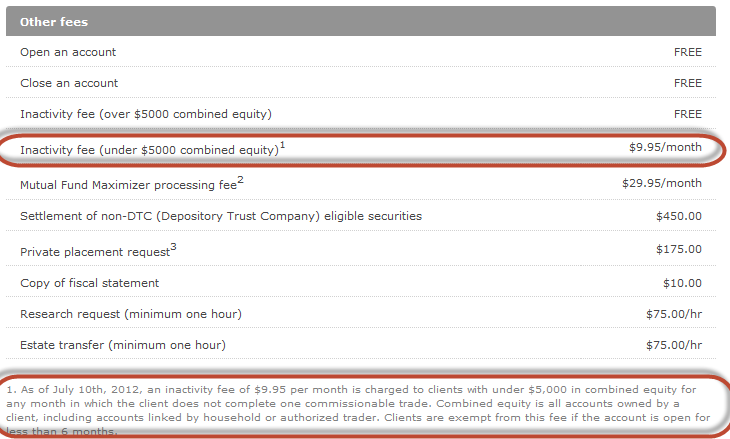 It turns out, however, that after thousands of customers that use the popular deal site Red Flag Deals saw this and several hundred complained, Questrade decided that they may need to rethink their strategy on raising prices. The director of communications for Questrade, Lynn Suderman,  has now announced how Questrade is going to charge customers for inactivity fees according to the announcement below.  I use the word "supposedly" because this message does NOT appear anywhere on the Questrade website and so should be taken with caution. [Update: I have received an email from Lynn confirming this change will be announced soon and updated on their website over the upcoming weekend]
The highlights of the supposed new fee format are:
If your account has less than $5000 in it, to avoid paying an inactivity fee you have to make one trade per quarter otherwise it's a charge of $19.95
Trades placed in the quarter after you have been charged a quarterly inactivity fee will be free up to the value of $19.95
Clients under the age of 25 don't pay any inactivity fees whatsoever (= regardless of their balance or activity level there is no activity fee)
Households (clients living in the same physical address) with a total of greater than $5000 in Questrade accounts don't pay the inactivity fee
This fee change will not take effect until September 30 (instead of the previously mentioned July 10) 2012
We'll keep monitoring this situation as it unfolds, however for the time being it looks like the responses to this change are mildly positive.  Surely there are many customers and potential customers that have been put off by the increasing in prices, however there are also many customers who saw this gesture by Questrade as an olive branch and a reasonable compromise.